THE LOCAL government, through the Museo Dabawenyo, has started installing Christmas decorations, including the traditional star lanterns made by persons deprived of liberty at the Davao City Jail.
Each bamboo star lantern or parol comes in yellow, green and red, following the Pasko Fiesta theme, "Fairyland." Some of last Christmas season's decorative materials were repurposed for this year.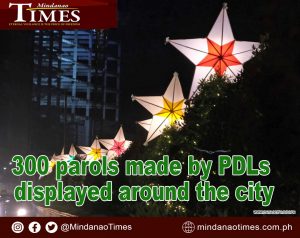 Davao City started buying Christmas lanterns from the city jail in 2016.
Museo Dabawenyo officer-In-charge Winnie Rose Galay-Bulig said the city placed an order of 300 parols for this year's Pasko Fiesta. She said the PDDLs were given monetary compensation by the lantern suppliers.
"Fairyland ang atoang theme for this year's Pasko Fiesta. And then ang uban pud natong decorations, majority ana is new, and then naa pod ta'y mga pipila nga mga recycled. Ug kanang makita nato na mga parol binuhat gihapon na siya sa mga inmates (Our theme for this year's Pasko Fiesta is Fairyland. And then for our decorations, majority of them are new, and there are some that are recycled. And those lanterns that we see were made by inmates)," Galay-Bulig said.
The lanterns will be displayed at the center islands along major streets and in all 22 public parks in the city.
"Pati atong mga pocket parks, butangan gihapon nato na og Pasko Fiesta decorative materials (We will also put Pasko Fiesta decorative materials in our pocket parks)," she said.
Other Pasko Fiesta decorations will be installed on city lamp posts, overpasses, and flyovers. A 45-foot Christmas tree will also be assembled outside of City Hall.
Eco group warns vs.
plastic Xmas lanterns
The toxics watchdog group EcoWaste Coalition warned that plastic lanterns that replaced paper-based parols may contain a cancer-causing chemical that has been tagged as one of the world's "ten chemicals of major public health concern."
The group made this revelation after conducting cadmium screening of multi-color plastic scraps obtained from parol makers at Central Market in Manila City, as well as new plastic lanterns sold by vendors at Mega Q Mart in Quezon City.Using an Olympus M Vanta Series X-Ray Fluorescence (XRF) analyzer, the group detected cadmium measured at 293 to 346 parts per million (ppm) from the green, red, yellow, violet and white plastic lantern scraps, and 147  to 278 ppm cadmium from the green, red, yellow and white plastic materials in new lanterns.
The maximum concentration value for cadmium under the European Union's Restriction of Hazardous Substances (RoHS) directive is not greater than 100 ppm. With PR