NO HIGH-RISK barangay was classified for COVID-19 cases in the city but ten were considered moderate-risk barangays.
Based on the classification matrix from Nov. 21 to 26, barangays listed under moderate risk are 
3-A

7-A

11-B

12-B

16-B

17-B

34-D

Manambulan

Tibuloy

V. Hizon, Sr.
This risk assessment uses the Average Daily Attack Rate (ADAR) on calculating the risk and impact of COVID-19 on the 182 barangays of the city.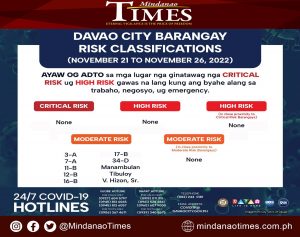 Moreover, the city government reiterated the call for Davaoeños to avail of the first and second dose vaccine and booster shots as protection from the virus.
Meanwhile, the City Health Office (CHO), encouraged the public to take advantage of the free health services in their respective district health centers.
Dr. Michelle Schlosser said the city's 18 district health centers do not only cater to COVID-19 vaccinations but also offer an extensive range of health services even before the pandemic started. Only this year that the COVID-19 vaccination integrated into their regular services.
Schlosser, the spokesperson for Davao City COVID-19 Task Force, issued this statement during the COVID-19 Alert program of the 87.5 FM Davao City Disaster Radio (DCDR) aired on Wednesday.
She said that although the new CHO building is now open to serve Dabawenyos, the services there are limited, unlike in district health centers.