Leading fintech and digital bank Maya has taken the global spotlight as the Digital Bank of the Year at the Future Digital Awards for Fintech & Payments 2022.
Organized by London-based global analyst firm Juniper Research, the awards program recognizes "challengers and disruptors" who have made "outstanding contributions to their industry and are positioned to make a significant impact in the future."
Maya emerged as the Platinum Winner for the Digital Bank of the Year category, the highest accolade given to the most innovative digital banking, payments, and fintech companies worldwide. The Maya Business app for MSMEs also won the Gold Award for the Best Mobile Money Offering category.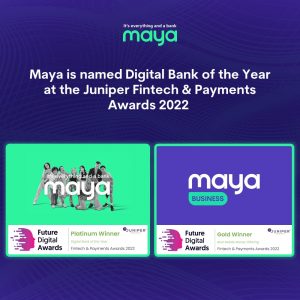 "We are thankful for this global recognition of our unique integrated financial services approach in bringing digital banking closer to Filipinos. This is a nod to the big Philippine fintech opportunity we are collectively unlocking as an industry to propel the country's economic growth," said Shailesh Baidwan, Maya President and Maya Bank Co-Founder.
Maya was recognized for its unique integrated financial services ecosystem model, revolutionizing the digital banking experience with embedded services through the all-in-one money app Maya and Maya Business for MSMEs.
In particular, Maya's record-breaking growth has propelled it to become the leading digital bank in the Philippines, acquiring more than one million bank customers and a PHP10 billion deposit balance within five months of its public launch. It is also the fastest digital bank to open its doors to customers within six months after securing approval from the Bangko Sentral ng Pilipinas (BSP).
Other platinum winners include tech unicorns such as cloud-based banking system fintech Mambu and modern card issuer Marqeta, digital and mobile wallets ToPay and Airtel Money Pay, Goldman Sachs Transaction Banking, Shop by Pay Shopify, among others.
Bringing digital banking to all through meaningful innovations
In a short period since its launch, Maya has made it much easier for Filipinos to open a high-interest savings account and get revolving credit while they enjoy seamless wallet and crypto services – all in one app. Customers just need to download the Maya app, register, and upgrade their accounts to access the digital banking services seamlessly powered by Maya Bank.
From their Maya wallet, customers can readily transfer their funds to Maya Save and start earning higher interest per annum, paid out daily and reflected in the transaction history. They can conveniently manage and move their money from their savings account to their e-wallet to conveniently pay their bills, buy digital load, or shop from their favorite brands inside the app. They can also start investing in crypto for as low as P1 via the Maya app. Eligible customers can also get an instant revolving line of credit of up to Php15,000.
Because of this seamless digital banking and payment offering, Maya has created unparalleled value to help customers grow their money and build their credit footprint based on their digital transactions.
Empowering MSMEs to make big moves with Maya Business
Winning the Gold Award for the Best Mobile Money Offering category, the Maya Business app was introduced in 2020 amid the COVID-19 pandemic to help MSMEs through an easy-to-use business-in-a-box solution.
MSMEs can accept digital payments through the Maya Business app and access a comprehensive array of financial services, including business deposits and credit from Maya Bank.
Eligible Maya Business customers can avail themselves of an integrated business deposit account that yields 1.5% interest per annum, four times the value traditional banks offer. The bank also provides a working capital credit line to Maya Business app customers by leveraging their transactional data.
Since 2008, the Future Digital Awards have recognized tech companies at the forefront of their respective fields. This year's award program covers the following innovation categories: banking, fintech, fraud and security, payments, and retail.