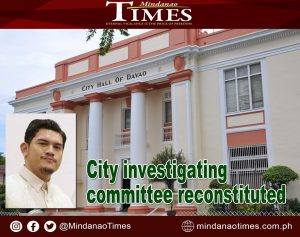 THE LOCAL government issued Executive Order (EO) No. 62-2022 reconstituted the investigating committee and its secretariat, identifying the special administrative prosecutors, and defining their powers, functions, and duties.
Mayor Sebastian Duterte signed EO 62 on Nov. 15.
It can be recalled that the city government] created an investigating committee through EO 37, series of 2013, EO 6, series of 2019, and EO 68, series of 2020 "in its desire to put into place an effective and impartial system to conduct proper administrative proceedings, to ensure proper observance of due process, and to avoid delay in the disposition or resolution of complaints against City Government of Davao employees."
EO 62 cited Republic Act No. 7160 or the Local Government Code of 1991 (LGC) particularly Section 83 to Section 88, which provides that the administrative discipline and investigation of city government employees rests upon the city mayor and shall be under Civil Service law and rules and other pertinent laws.
The new EO also refers to Section 6, Article IX-A of the 1987 Philippine Constitution in relation to EO 292 or the Administrative Code of 1987 that empowers the Civil Service Commission (CSC) to prescribe, amend, and enforce rules and regulations to effectively carry into effect the provision of the Civil Service Law and other pertinent laws, which include the procedures in administrative cases in the Civil Service.
EO 62 mandates that the investigating committee shall be composed of Acting City Legal Officer Atty. Osmundo P. Villanueva, Jr. as chairperson and human resource management officer Melody C. Herrera and city accountant Vingelin A. Bajan as members.
The committee is mandated to conduct a preliminary investigation, through the special administrative prosecutor, to determine the existence of a prima facie case to warrant the filing of a formal charge according to Sections 15, 16, and 17 of the Revised Rules on Administrative Cases in the Civil Service (RRACCS); and conduct conferences to expound on clarificatory and relevant questions, summon all parties concerned and/or issue notices, subpoena duces tecum, subpoena ad testificandum, show-case memoranda and other lawful processes to appropriate individuals relative to a complaint filed against an employee of the city government.
The probe body is also tasked to submit to the city mayor, through the special administrative prosecutor, upon the termination of the preliminary investigation, an investigation report with recommendation/s and the complete records of the case; conduct a formal investigation according to Section 39 of RRACCS and Section 86 of LGC and thereafter submit the findings and recommendations to the city mayor upon the conclusion of the same, and perform other necessary functions that the city mayor may assign from time to time relative to investigations or complaints made against employees of the city government.