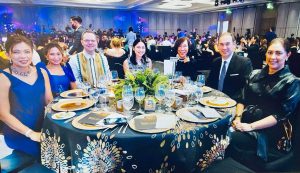 Indeed, it was truly a starry, starry night to remember last November 12, 2022, when formally clothed Davaoenos showed up for the Dusit Charity Gala: A Celebration of Arts, Fashion and Jewelry.  This Hotel's special and first event of this kind, in partnership with the Emilia Sitjar Jewellery and the Davao Fashion and Design Council (DFDC) headed by Dodjie Batu, was for the benefit of the SOS Children's Village of Davao City.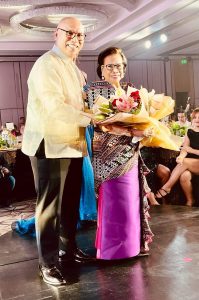 "By making the SOS Children's Village as its charity beneficiary, the Dusit Hotel and Resort of Davao is sending a message to all its stakeholders of the true meaning and purpose of their existence.  That is to provide a safe and secure family environment to all its clients; and to house a happy home to its residents, in the same way that the SOS Children's Village in Davao is doing  to children in need.  We are expressing our gratitude to Dusit for such a gift, especially in this Christmas Season of Giving," said Leonilo Rivero, the SOS Village Director.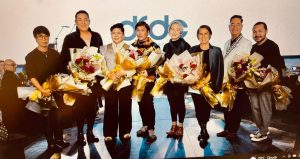 Dusit Hotels and Resorts General Manager Christoph Kuch, in his welcome speech delivered during the Gala, reiterated, "It has been our vision to take Davao to the next level as it has a lot to offer. In our three years here, Dusit has been witness to milestones and celebrations. Tonight, we are making our own. I am proud to say that along with the Emilia Sitjar Jewellery and the DFDC, the Dusit Charity Gala will be a gamechanger, not just in the fashion industry but in helping communities."  For indeed, the international hotel brand has been helping elevate the promising fashion and jewelry industries of Davao since the past by giving due recognition to Davao's talented artistes.  Thanks to the avid support of Dusit Cluster Director of Sales & Marketing, Lannie A. Merilo, who has always patronized Davao fashion designers and other outstanding artisans of the City.  Councilor Al Ryan Alejandre, who represented Davao City Mayor Sebastian Duterte, delivered an inspiring message and thanked Dusit for the big help to Davao's underprivileged segment of the community as well as its talented artistes.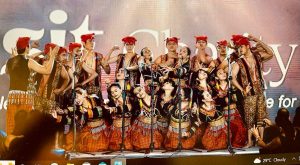 The show, which started late as expected, began with the impressive performances from the award-winning University of Mindanao Chorale, Dabawenya singer Maan Chua, and the Davao Maharlika Strings.  Also performing later that evening were three young ladies of the group called Gleetery who were joined by some SOS children.  Happily, Dusit Davao gave the spotlight to exceptional Mindanaoan talents.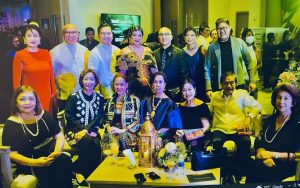 The much awaited fashion show of the DFDC had the theme, Elements.  The runway collections of the eight members of the DFDC provided a visual spectacle to everyone's expectation:  Aztec Barba (Fire), Egay Ayag (Earth), Benjie Panizales (Water), Emi Englis (Earth), Edgar Buyan (Fire), Bamba Limon (Faith), Windel Mira (Water), and Dodjie Batu (Earth).  "The eight featured designers' collections resonate with the call of the earth, water, air and fire with reverberating distinct Mindanaoan aesthetics.  Most importantly, this event is the first of many attempts to renew our passion for fashion by positioning our hearts in creating a community that genuinely cares," expressed Dodjie Batu, the President of DFDC.
Emil Sitjar's well curated jewelry collection from his family's Emilia Sitjar Jewellery is all about "gratitude".  "A Springtime of Gratitude tries to capture how we feel—of being grateful for my family to have come out from the pandemic relatively healthy; of being able to restart our lives after over two years of 'winter'; and to be able to give back, despite how hard times have been to all of us."  Emil's jewelry collection truly made his mother dearest Emilia beem with pride, along with his loving sister Eileen, and supportive brother Jet who flew in from Bangkok to attend the event.  The glittering jewelry collection of Emil was modeled by no less than Davao's respected and influential women who shone just as brightly in their designer brand gowns.
The four-course Thai dinner which consisted of crispy papaya salad, slow-cooked ox tail soup, duck galantine, and homemade coconut ice cream for dessert were specially prepared by the Dusit Thai Executive Chef Piya Suthasiri and his culinary team. Food was served after a ceremonial waiters' parade with the participation of the food & beverage team. "Tonight, we're serving you a four-course contemporary Thai menu, taking inspiration from my valuable experiences gained from my travels around the world," said Chef Piya. 
The night ended with special raffle prizes awarded to a handful of lucky guests. Overnight stays in the different Dusit properties in the Philippines, gowns and barong gift certificates from DFDC, and a ruby and diamond jewelry set from the Emilia Sitjar Jewellery were the coveted prizes. The event was hosted by Binibining Pilipinas Intercontinental 2015 and Miss Intercontinental 1st runner-up Christi McGarry. The show was ably directed by Manila's Jackie Aquino's JCA productions; while the event styling was meticulously done by the celebrated Annie Paz Lim, the Lady in Red that night.
—