DAVAO CITY (MindaNews) – Vice President and Education Secretary Sara Duterte wants a "National Culture of Peace" in the curriculum of the Department of Education by 2024 or 2025 for learners from Kinder to Grade 12
Duterte announced this Friday at the Kusog Mindanaw conference at the Waterfront Insular Hotel.
"I just wanted to share with you that we are currently talking about a National Peace Culture, National Culture of Peace in the curriculum of the Department  of Education," Duterte said, adding they are "currently developing that and of course we welcome your input when we are ready to present it to our stakeholders, to our partners, to everyone."
She said they are not yet ready to present it because they are "still internally discussing everything but sinabi ko sa kanila doon sa mga kasamahan ko, my colleagues in the Department of Education, 'you know what, I am the expert here in talking about peace because I am not peaceful but Paquibato is now peaceful.'" (see other story).
She envisions the "National Peace Culture" to be a "program about peace that is embedded in the curriculum from Kindergarten  to Grade 12."
The Education Secretary said she has been telling Congress to allow them first to formulate the program "so that hindi masira yung vision, yung gusto natin mangyari sa basic education learners" (so our vision for basic education learners will not be destroyed).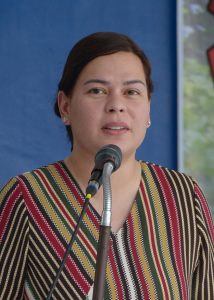 "Before you teach about being a reserved officer, you teach them first about peace and that ,,, .trabaho yan ng basic education to make them peacebuilders first before you put them in military training to serve the country," she said. (Carolyn O. Arguillas / MindaNews)