WHAT a welcome sight to see the pioneering Philippine Wine Merchants' father-and-son team of Raymond and Red Joseph at Dusit Davao's Benjarong Thai Restaurant last October 29, 2022.  The duo's presence was for the restaurant's special Wine Fest with dinner on a weekend.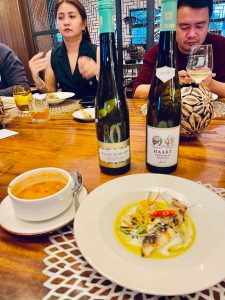 The Philippine Wine Merchants (PWM) wine and spirits importation and distribution company, which was established in 1975, is exclusively owned by the Joseph family.   Starting as a single brick and mortar store, it has now progressed to becoming a leader in the industry offering various wines, spirits, sake, and beers all over the Philippines.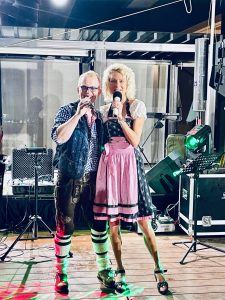 "We're proud to be a pioneering company built on strong family values with a foundation built on principles of integrity, selflessness, respect, and diversity," said the impressively physically fit and athletic Raymond Joseph who could easily pass as his hunky son's brother.  "What makes us different from the rest of our competitors is that we have our own brands, our own retail stores, our own concession, and we are four hardworking brothers namely Bobby, Ralph, Ronnie and myself running the company."  Definitely, the Joseph siblings know how to celebrate the good life with good wines and spirits.
     To start the dinner with cheers and a glass of PWM's Mosel Riesling 2021, Benjarong paired it with its appetizers consisting of Yam Som O (pomelo, chicken, shrimp, nam prik pao sauce); Por Pia Pak (vegetable spring rolls); and Tord Man Gung (shrimp cakes).  For the well-curated main course came Pla Krapong-Khao Yang Gang Kiew Waan (grilled seabass with green curry sauce); the delicious Nuea Yang (grilled tenderloin with a sweetish tamarind/pepper sauce); and Phad Pak Choi (bok choy sauted in garlic with straw mushrooms).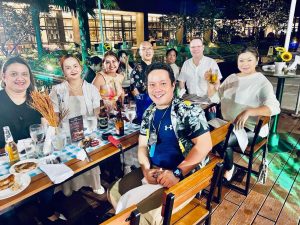 The main course dishes was paired with your choice of either Trapiche or Broquel Malbec wines.  Finally, the mango sticky rice for dessert came served with Goldtropfchen which I chose to eat along with a glass of Kabinett 2018.
     After dinner, Raymond Joseph started talking about the Japanese sake.  I was surprised to find out that the admirable man is the only Filipino sake sommelier in the country so far.  PWM has tied up with Japan's Gekkeikan Sake Company Limited (founded in 1637) of Kyoto in the distribution of Japanese sake in the country.  Raymond looks forward to 2023 to introduce sake to Davaoenos while informing that the USA is presently the biggest importer of Japanese sake.  Looking forward to it, Raymond and Red Joseph.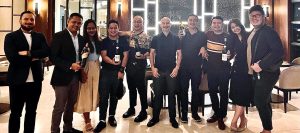 Dusit Davao pumped up the start of the month of November with an exciting two-day event co-sponsored by San Miguel Beer. The Beer and Pool Festival, held last November 4 and 5, highlighted the traditional German Oktoberfest while featuring popular Octoberfest dishes plus performances from an international German duo named Zweisam Together and Davao's Midnight Blues.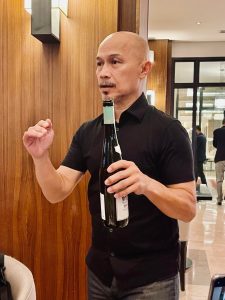 In his welcome message, the casually clothed and relaxed GM Christoph Kuch expressed, "It is good to finally celebrate Dusit's first ever beer festival in Davao! What's unique about the way we do it in Dusit is the merging of cultures for this event. With Oktoberfest originating from Germany; the feast has evolved in various versions around the world.  This special event on a refreshing night is truly filled with good beer, good food, good music and of course, good company. We are grateful to San Miguel Beer and our entertainment partners."
     Dusit's culinary versatility was showcased during the event, with the new Executive Chef Piya Suthasiri from Thailand leading the kitchen team. A grilling station with famous German sausages and other meats and seafood were available. Other Octoberfest signature dishes included the cochinillo and pork belly roll which made people line up patiently. There was also the wide array of Olive Puentespina's Malagos cheeses with nuts and dried fruits; as well as various breads, seafood dishes, and desserts.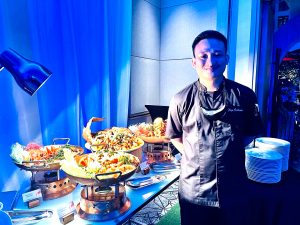 Fueled with good food and San Miguel beer, the guests, led by Dusit Thani Cluster Director of Sales & Marketing Lannie A. Merilo and Dusit Davao's Marketing & Communications Manager Faith Dimaano, danced the night away.