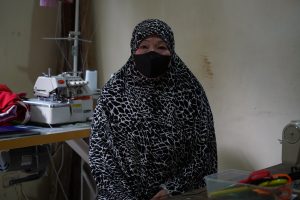 By: Pamela Joyce Fumero
WHEN you think resiliency, you think Filipino, and no community embodies that better than the displaced residents of Marawi City. From having to crawl through dead bodies to escape, to rebuilding their life from scratch, the will to live and determination to survive burns bright in our Maranao brothers and sisters. 
Unlike most people, Omaima Macapaar's struggles began long before the siege. As a single mother, she had a seven-year-old child to provide for, a mentally unstable sibling to cater to, and a 115-year-old mother to take care of. Her livelihood consisted of dumpster diving at waste yards and scavenging old bottles to resell at 25 cents. Life was something straight out of a tragic telenovela for Omaima, but little did she know that things were only going to take a turn for the worst on May 23, 2017. She shared that while they did not know who kept donating to them after the siege, she was thankful they at least had something to fill their stomachs. 
But their string of bad luck was not going to run out soon.
Just as things started to gain a semblance of normalcy, the COVID-19 pandemic hit the country, driving them all the way down to rock bottom. Still, despite everything, Omaima never gave up hope. She would find little plants on the road and revive them in order to sell, she would make masks out of her damaged clothes and sell them to her neighbors – anything to make a buck for her family. 
Neighbors would support her by buying whatever she was selling, but at the end of the day, even that was not enough to make ends meet. More often than not, they had to go through a couple of days without anything to eat, and on days when they could, it was hardly enough for three square meals. Their neighbors would sometimes step in and give them food if and when they heard, but it was always an unspoken fact that they could not keep doing that forever.
One faithful day, however, while she was planting flowers to sell to neighbors and passersby, three young adults came to her, asking if they could see her home and if they could interview her. Rightfully so, she asked who they were and if they were who she'd been praying for so long.
"Kayo na ba makatulong sa aking kahirapan? Kayo ba yung darating na lagi kong nagsasamba na sino kaya ang darating na mabigyan ako ng makatulong sa akin?" she cried. (Are you the answer to my prayers? Are you the ones I've been praying for who can finally help me?)
But she was met with vague answers telling her to keep praying and help will soon be on its way. Little did she know that those three strangers were representatives from IOM-KoICA who were scouting for potential beneficiaries. They were pointed in her direction by her neighbors who witnessed how she has been working herself to the ground for years. Word eventually got out about the IOM and how they were looking to give some residents livelihood programs but as they became general knowledge, Omaima started hearing whispers going around that she might not get chosen because she wasn't on the barrio's radar. 
As much as she wanted to do something about it, she was caught between a rock and a hard place – she still had a family to support after all, and had no time to go play nice with barangay politicians. So with bats in her stomach, she continued to pray and held on to her faith even tighter. Unfortunately, just when she thought things couldn't get any worse, they did. 
Omaima caught COVID during the pandemic. They hardly had enough money to get by as things were, but now she had to worry about getting tested and medication? No way, they quite literally could not afford to go through that. The only logical solution – at least, to her – was to hide it and hide it she did. 
She confined herself to their home, not telling a soul, suffering in silence as her child watched – helpless – from the sidelines. She could hardly breathe, and her body stung with the pain of a thousand needles, they couldn't even ask for help in fear that instead of aid, they would be met with fear and her family – should she leave them behind – would be ostracized. 
Perhaps this is where it all ends.
She pulled her child aside, telling them to leave while they can, that whatever happens to her, they need to get to their relatives and continue to live. All she got back was a litany of no's and don't leave me falling from their lips as they begged her to continue fighting, to keep on living for them. Her child's cries pleading her not to leave them grounding her to the present. 'Yun ang nagagamot ko sa sarili ko, yung tunog ng salita ng anak ko. (That was my medicine, my child's voice.)
Just as she started getting better, she received a call from IOM-KoICA telling her that she was one of the lucky recipients of the livelihood program and that their training will be starting soon.
From then on, everything was a whirlwind – from undergoing dressmaking classes and training seminars under TESDA to receiving the sewing machines and starting her business, Omaima finally has a stable source of income that won't endanger her health nor that of her family. Now she runs a dressmaking business that not only provides for her family but even enables her to offer help to her relatives in need. 
From selling bottles at 25 cents a piece to earning up to P5,000 a day, it was hard for her not to sob as she recounts her story. Before IOM-KoICA, she never would have thought she could get her hands on a hundred-peso bill, much less that she would be earning thousands by the week. Teary-eyed and overflowing – literally – with gratitude, Omaima tells us never to lose hope; that as long as we keep that little ember of hope alive, the fire can still anew. (PJF/PIA-10 Lanao del Sur)