Davaweños had a once-in- a lifetime opportunity to enjoy the Beatles photo exhibit in downtown Abreeza Mall last Sept 30 to Oct. 2. Rare photos and memorabilias of the Fab 4 from Liverpool, through Steve O'neal's collections were all bannered conspicuously for public display at the Abreeza Activity Center. 
The exhibit sparked every Beatles fan to reminisce a great musical era in the early 60's when the boys from Liverpool shot to stardom with their uniquely composed songs that have entertained the world for more than 60 years and counting. But the rare Beatles photos and memorabilias exhibit was happily complemented with a two-hour live concert by the fast rising popular band of Davao known as the Boomers. 
The musical segment was the icing on the cake. For three successive afternoons (from 4 pm to 6pm) on Sept 30 until Oct 2, the Abreeza Activity Center was magically transformed into a great concert hall with the band Boomers re-creating and singing the famous Beatles songs that have endeared the world of music for many decades, now indelibly etched in our memories.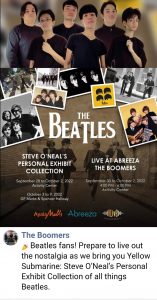 The music wafted across Abreeza's Activity Center, which lured shoppers and on lookers from all walks of life. The Boomers, young talents all hailing from Davao, produced a scintillating performance not seen by our city for many years. The songs brought joy, happiness, and nostalgia as they warmed and touched the heartstrings from beginning to end. 
"I saw her standing there", "Get back", were pure lively dance music that mesmerized the Davaweños with the pulse and energy of these songs. " While my guitar gently weeps", "If I fell" " In my life" and others provided a slower tempo with their poignant melodic lines. 
In all, the instruments and vocals weaved the unforgettable melodies from the boys from Liverpool. The crowd cheered, rose from their seats, clapped their hands, sang along, stomped and shuffled their feet to the beat of the music fashioned by Lennon McCartney. Hearts melted as some were teary- eyed, evoking joy thru sheer nostalgia and memorable moments of yesteryears.
It was an unforgettable and spectacular three-day musical concert for the Davaweños who have discovered and are so proud of the musically gifted band, the Boomers. Band leader and lead guitar/vocals- Mark Abella; Keyboard/piano/vocals- KB Dalumpines; Drums- Carlo Cabase;  Co lead guitar – Brandon Paran; Rythym guitar- Hezekiah Lequin; Bass-Carl de Cordova.