AN alleged illegal drug peddler was killed while three others were arrested in separate police operations in the city over the weekend.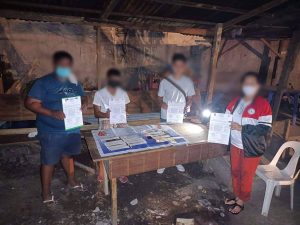 Killed during a police operation in Baliok was a 21-year old man whom police did not identify in their reports, while those arrested were 19-year old Reymarc Daryll Montero Verde, single, jobless, resident of New Ecoland, Mintal; Jarine Jade, male, married, construction worker, resident of Purok2-B, Salmonan, Brgy 23-C.; and, Rachel Lara Moncas of Amparo Village, Barangay Ilang.
Major Nelson Violan, Baliok Police Station commander, said a team from the police station arrested the young man Saturday morning after he was suspected of peddling shabu.
AS he was being booked, the man suddenly grabbed the firearm of the booking officer and that as they were grappling, the gun fired.
Other personnel of the police station helped their colleague to take the gun out of the suspect's hand, but the latter was able to point it at the police officer, prompting Patrolman Kenth Reuven Nuyad to shoot him to save his colleague.
They the brought the man to the hospital where he was declared dead.
In another raid, members of the Sasa Police Station arrested Verde as he he was trying to sell illegal drugs. Seized from him was about P5,000 in prohibited drug.
Jade, on the other hand, was arrested during a raid by members of the Sasa Police Station and seized from him P500 in shabu and an improvised handgun.
Early the following day, Sasa Police Station also arrested Moncase during a raid in Kilometer 13, Panacan.
Seized from him was about P10,000 in shabu and the  money that was used to trick him to sell the prohibited substance to an agent..