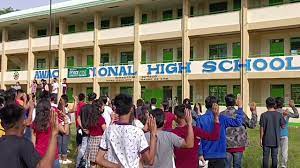 A science experiment resulted in a fire that injured three Grade 7 students of the Awao National High School in Monkayo, Davao de Oro on Friday.
Based on the police blotter, the victims, whose age were between 12 and 13, were among those conducting an experiment inside the science laboratory of the school.
The report said the students were trying to separate the components of a brine solution using the evaporation method. 
The teacher, Melvin Akiatan, was using a stove, cotton, ethyl alcohol and other components of the experiment. However, as the teacher was refilling the stove with alcohol eventually resulted in a fire that burned the victims, all boys.
Witnesses immediately brought the victim to the hospital which resulted in two of them allowed to go home immediately, while the other victim was brought to the Southern Philippine Medical Center in the city because he needed further medical attention.