THE Ancillary Services Unit (ASU) has doubled down on its efforts to clean the drainage system of the city following the floods that hit on Wednesday.
Paul Bermejo, head of the unit, said that more personnel have been added to the unit to intensify its activities of declogging the drainage system.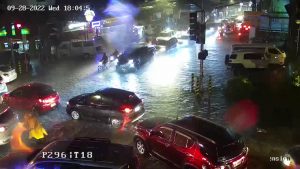 He said more units were deployed to areas prone to floods to clean up waterways. 
"Ang priority nato, before pa ang kagabii na ulan, kay kadtong previous na mga frequently flooded areas, such as kining naa diri sa GSIS. So, gitirahan nato ang San Antonio Village kay dili ma-drain ang tubig diha gikan sa GSIS so mubaha diha sa McArthur Highway," Bermejo said, adding that these activities are being done in flood-prone areas.
However, he noted that some areas that were hit with floods last Wednesday were not usually the ones vulnerable to high water level.
"Nadugay lang atong mga tao tungod kay aside sa mano-mano, kinhanglan nila pas-anon ang pila ka sako na mga gihabwa nila na materyales para ikarga sa atong truck tungod kay maski wheel barrow dili makasulod didto," Bermejo said, adding that also being conducted round the clock were clearing of roads with debris.
He said the unit is looking into other ways to clear up roads like forming "Barangay Ancillary Services Team" in the densely populated areas to help in maintaining cleanliness of the roads and waterways.