THE SCOURGE of the communist terrorist group (CTG) operating in Northern Mindanao and Caraga regions is now nearing end. 
MGen Wilbur C. Mamawag, the 4th Infantry (Diamond) Division commander, made the prediction following a series of arrests and deaths of top CTG leaders recently. 

The military identified the recent rebel returnees as as Daniel "Ladder" Nague, Janelyn "Ajen" Flores, Maylyn "Lim" Acebido and Marjon "Bestre" Maraon, and Bobong "Jimmy" Asay, who gave themselves in to the 75th Infantry Battalion under Lt. Col. Jelson D Buyuccan on Sept. 21.
Meanwhile, Mama "Jab" Inolato and Rodulfo "Datu Bagyo" Manseliohan Man-anito, Kabebing "Marilyn" Man-anito, Matet "Elvie" Inolato, Dexy' Esok" Gumansil Hayonan, and Melecio "Datu Manhabinan" Manseliohan, surrendered to the 26th Infantry Battalion under Lt. Col. Sandy R. Majarocon on Sept. 25. They also brought along six high-powered firearms. 
They were remnants of Platoon Banglas of SRC3, NCMRC. Earlier, another six CNTs led by Badong "Reymund" Gumansel Lipanda surrendered to the same unit on Sept. 17.
"These string of accomplishments clearly manifests the looming end of the CTG. With 40 CTG key leaders neutralized resulting in 35 firearms recovered from September until the present, what we are dealing with right now are the remnants of the weakened CTGs who persist on threatening far-flung communities," Mamawag said.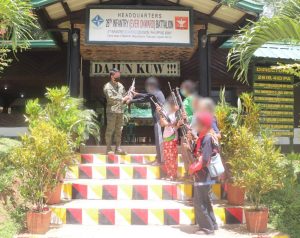 The division commander reiterated his call for peace and urges everyone to help reach out to our misguided brothers.
He said, "the Joint Task Force Diamond that I lead is on the last stretch of our campaign to finally end the local communist armed conflict in this two regions."
"At the rate we are going, it seems that our dream to have insurgency-free communities will not be far-fetched," he further said.