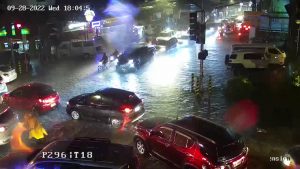 DUE TO heavy rains Wednesday evening, some areas in the city experienced heavy traffic, street flooding, and individuals stranded. However, the City Disaster Risk and reduction management office (CDRRMO) said there was no reported casualty.
In an interview on Thursday, CDRRMO chief Alfredo Baloran, said the 11 areas in the city experienced street flooding were La Verna Subdivision Buhangin, Sutherland Jacinto Ext., Jp Laurel Downtown, Brgy Communal Purok 1, Purok San Miguel and Phase 4 Deca Homes, Brgy. Indangan, Carpenter St., Brgy. Leon Garcia, Purok Anahaw Santol St. Buhangin Proper, Daffodil Street, Montclair Highlands, Diversion Road Buhangin Proper, Villa park Cabantian Buhangin, San Antonio Compound, NHA Buhangin and New San Isidro Buhangin.
Also, the canal along the Roxas night market overflowed.
Motorists in the Buhangin area were stuck for more than an hour due to heavy traffic caused by street flooding.
Based also on their record, only 11 individuals or two families were trapped in the Buhangin area, and were rescued already. The four individuals temporary stayed at the Buhangin gym.
Meanwhile, CDRRMO advised all Safety and Response Cluster, primarily the stations concerned, to closely monitor and address the matter with urgency and utmost attention.
Also, the Implementation and observance of the minimum public health standards must likewise be observed in the evacuation centers.