WITH 18 new COVID-19 cases in graduate schools, colleges, and universities, city officials will meet with the Department of Education and the Commission on Higher Education today to boost vaccine and booster rollout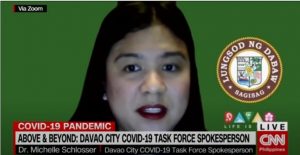 Dr. Michelle Schlosser, the spokesperson of the COVID-19 Task Force, said students and employees of some colleges and universities were infected with COVID-19. 
She said a few positive cases in elementary and secondary schools are mostly employees.
"We will have a sit-down meeting with CHED and DepEd. Our team in the CHO, Davao City COVID-19 Task Force, and the LGU naa didto to sit down with them. Open dialogue with them unsa'y matabang nato sa ilaha, reorient them. Kinahanglan i-emphasize ang campaign nato sa vaccination, if naa sila'y nalimtan, madungagan pa ilang awareness sa efficient contact tracing, quarantining and isolation, and testing (Our team in the CHO, Davao City COVID-19 Task Force, and the LGU will sit down with them. We'll have an open dialogue with them, about how we can help them, and reorient them. We'll emphasize our vaccination campaign, or if they have forgotten, to boost their awareness on efficient contact tracing, quarantining and isolation and testing)," Schlosser said during the COVID-19 Alert program of 87.5 FM Davao City Disaster Radio (DCDR) aired on Wednesday, September 28.
Aside from intensifying the COVID-19 cases in schools amid the implementation of face-to-face classes, the Vaccination Cluster is also bent on improving school vaccinations.
While Davao City's COVID-19 cases are slightly dropping and retaining a daily average of 10 percent positivity rate the past week, the city health official said it's unfortunate that 14 new deaths were still recorded from September 18 to 24.
Of the 14 deaths, seven were senior citizens who received the two-dose primary series of the anti-COVID-19 vaccine, and only one among them had the first booster.
Schlosser, who also recently recovered from a COVID-19 infection, also noted significant deaths in the 20 to 29 and 30 to 39 age groups, as well as below five years old and five to 11 years old.
"Daghan nangamatay mga bata ug young adults. Dili pwede magsalig ra ta nga naka first and second primary dose series lang ta kay atong mga activities open na kaayo (Children and young adults also died. We can't just be complacent that we have the first and second primary dose series since our activities are very open now)," she added.
She called on parents anew to have their children vaccinated; a significant number of the five to 11 years old also died due to COVID-19. "We're doing face-to-face classes. Most of our students are commuting. Kita ba mo sa kadaghang tao (Don't you see a lot of people)?"
According to her, some asymptomatic people may be walking around since there are no longer restrictions on activities, and they might bring the virus, resulting in the spread of infection.
As of September 23, 14.12 percent, or 26,591 children of the 188,385 target in the five to 11 population age group, are fully vaccinated. 
A vaccination site has been set up for the Bakunahang Bayan Pinaslakas Vaccination Days at People's Park from September 26 to September 30 from 8 a.m. to 3 p.m., and district health centers-based vaccination hubs are also operational.