THE COMBINED elements of the 701st Infantry Brigade of the 10th Infantry "Agila" Division recovered five firearms at Barangay Magdug, Governor Generoso, Davao Oriental on Sept. 27.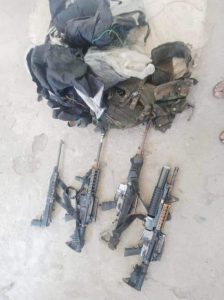 Captain Mark Anthony Tito, the 10th Infantry Division Public Affairs Office chief, said Rodel C. Mandel alias Ka Aladin, a former member of the dismantled Guerilla Front 18 who surrendered on Sept. 26 to the 48th Infantry Battalion, revealed the location of the M16 Rifle, M203 Grenade Launcher, three Carbines, and other war materiel. 
Meanwhile, 10ID commander MGen Nolasco A. Mempin commended the successful operations launched by the 701st Infantry Brigade under the leadership of BGen Oliver C. Maquiling. 
"This extraordinary accomplishment manifests the untiring efforts, motivation, and dedication of the officers and enlisted personnel not only of the 701st Infantry Brigade but of the whole Agila Division," Mempin added. 
The Provincial Peace and Order Council of Davao Oriental declared the said province as Insurgency-Free on Sept. 19 after all the remaining members of the dismantled Guerilla Front 18 were neutralized.
 Moreover, all the guerilla fronts previously operating in the said province were also declared dismantled, namely, Guerilla Front 18, GF South, and GF North.