MEMBERS of three people's organizations in Barangays Colonsabac and Asbang in Matanao, Davao del Sur received about P5 million in farm tools and inputs on Tuesday.
Captain Mark Anthony Tito, 10th Infantry Division Public Affairs Office chief, said the Colonsabac Lumad Farmer's Association (COLUFA) and Datal Fitak Libon Association (DALIA) received P1.5 million each and P2 million for the Asbang Lumad Farmers Association (ASLUFA).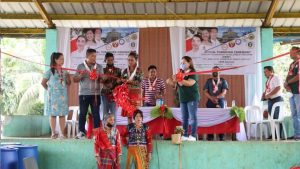 These village organizations whose members were either former rebels or their supporters. These people are also mostly members of the B'laan Tribe.
The fund was taken from the P40 million fund of the Barangay Development Program (BDP), a component of the National Task Force in Ending Local Communist Armed Conflict. 
The barangays were formerly influenced by the outlawed group, but the military cleared it successfully through the Retooled Community Support Program (RCSP) of the 39th Infantry Battalion under the 10th Infantry Division. 
The remaining amount will be used for infrastructure projects including road concreting projects.
Major Gen. Nolasco A Mempin, commander of the division lauded the local government units of Davao del Sur and Matanao for providing basic social services to the cleared areas.