THE City Veterinarian Office announced Wednesday that it has 346 heads of swine this year to repopulate those areas affected by African Swine Fever.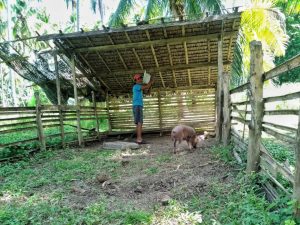 CVO Head Cerelyn Pinili said 50 heads were distributed in Barangay Sasa, 50 in Barangay Colosas, Paquibato, 148 in Barangay Calinan, and 98 in Barangay Magsaysay.
The office also did the same last year. 
"Gikan ni siya sa Department of Agriculture ang stock. Kita ang nag distribute ug nag monitor. Up to 40 days gi-test nato for ASF kung matakdan ba sila pero wala, negative tanan," said Pinili, adding that before the distribution, they conducted environmental sampling of the soil and the pigpens. 
A blood test was conducted on the stocks 40 days immediately after they were settled in the area. 
She said that as the test yielded negative, they can already say that the areas have been cleared of ASF. 
"We can say na clear na gyud ang area meaning pwede na sila magbuhi for repopulation (We can say that the area is clean, meaning they can breed stocks for repopulation)," she said. 
To maintain this status, Pinili advised farmers to maintain strict biosecurity measures.
"Dili basta-basta magpasulod og tao sa ubang area nga naay positive. They should conduct cleaning and disinfection," Pinili said, adding that placing footbaths is also highly advised.