Manila, Philippines — BillEase, one of the fastest-growing consumer finance apps in the Philippines, today announced that it has closed an up to USD 20 million debt facility arranged by Helicap Securities, a Singapore-based financial technology company providing private debt investment opportunities for accredited and institutional investors, bringing the total raised by the lending platform to USD 55 million in debt and equity.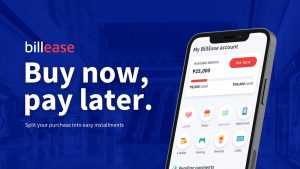 "We are delighted to have secured a new facility which will further grow and expand our loan portfolio, demonstrating the confidence private investors have in our sustained growth trajectory and profitability. Being able to collateralize our loan book allows us to access funding to continue serving our fast-growing, underserved customer base," said Georg Steiger, CEO, and Co-Founder of BillEase.
Zhiwei Tan, Executive Director of Helicap Securities said: "We are excited to support BillEase's growth with this debt facility. We are impressed by the company's growth over the past 3 years and its mission to further financial inclusion in the Philippines. The rising acceptance of digital payments is changing the landscape of consumer lending and we are seeing BillEase as one of the few companies that can leverage and scale with the use of their AI-driven credit engine which allows them to offer consumer-centric, responsible financial products and highly personalized digital experience."
Earlier this year, BillEase raised USD 11 million in a Series B round led by BurdaPrincipal Investments, the growth capital arm of German media and tech company Hubert Burda Media. Centauri – a joint investment vehicle of MDI Ventures and KB Investment, 33 Capital, and Raisin DS CEO Tamaz Georgadze also joined the round. In March, BillEase also raised USD 20 million in secured debt from the UK-based Lendable, an emerging market credit provider, to further accelerate the growth of its lending products.
BillEase is an on-demand credit and finance app / platform that provides different types of financial services such as personal loans, e-wallet top-ups, prepaid load, and gaming credits as well as buy now, pay later (BNPL) which allows customers to pay for their purchases online and offline in interest-free or interest-bearing installment plans. It is currently accepted as a payment method by over 1,000+ major brands and small businesses and is offered by 7 major payment gateways in the country.
The credit provider is rapidly growing with its H1 2022 volumes up 5x compared to the same period last year. It has disbursed more than 3 million+ loans so far with the majority going to female customers and consumers with no previous credit history. The startup has been profitable since 2021 and its impressive growth is attributable to its proprietary AI-driven underwriting process allowing it to automate loan approvals in under 5 minutes and keep processes and risk costs low.
BillEase is well positioned to further expand the reach of its financial services in a market where low-cost credit is not accessible enough for many consumers. The Philippines is among the emerging markets with low credit card penetration but has a tech-savvy and digitally-forward population, creating more growth opportunities and capturing a largely underserved market for the company.
This year, BillEase launched its in-store QR payment to tap into payment transactions that usually happen offline as well as payment links which are now highly used in social commerce, allowing the company to offer an omnichannel shopping and payment experience for both customers and its merchants. "Our new funding comes at the right time as we develop and launch new products and continue to see strong growth. At the same time maintaining profitability means we can be a sustainable and long-term partner for consumers and merchants," Steiger added.