ECOLAND Medical and Wellness Center, Inc. (EcoMed) marked the opening of its Primary Care Facility (PCF) operations on Saturday, September 3, 2022 with a blessing and ribbon-cutting ceremony.  This was also a landmark event for DOH Region XI as EcoMed is the first DOH-accredited private Primary Care Facility in Region XI, and one of the first licensed PCFs in the entire country.  
"We are happy and honored to be the first private Primary Care Facility here in Davao City and in the entire Region XI," remarked Leonilo G. Claudio, EcoMed's Chairman.  "This is our way of actively supporting the government's move, through DOH, towards Universal Health Care here in the Philippines."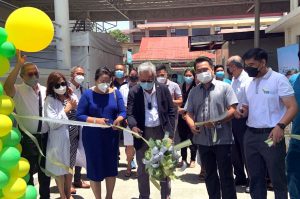 As a Primary Care Facility, EcoMed offers a range of healthcare services that look to address the primary healthcare needs of people.  These services are an Outpatient Department, Minor Operating Room, Birthing Facilities, Level 2 Clinical Laboratory, Radiology Department, and a Pharmacy, all operating on a 24-hour, 7-days-a-week, basis.
"Through our PCF, we hope to reach out and serve a larger portion of our community through our expanded services," shares EcoMed's President, Ricardo V. Pascua, Jr.  "This is really in keeping with our Mission of enhancing the quality of life of our patients by providing relevant, high-quality, and compassionate healthcare."    
A core service of EcoMed's PCF is the PhilHealth Konsulta Package, a healthcare package consisting of 13 diagnostic procedures and 21 specific drugs which will be ordered by EcoMed's Primary Care Physician during a patient's consultation.  The PhilHealth Konsulta Package is fully covered by PhilHealth in government-run PCFs, while private PCFs are allowed to charge a small co-pay to help subsidize costs associated with the operations of the Konsulta Package.
"The PhilHealth Konsulta Package is really meant to extend primary or basic healthcare at zero or very low cost to the patients, therefore making it accessible to all Filipinos.  The goal is to have people take care of their health through regular medical consultations.  While the Konsulta Package will not take care of all the healthcare needs of a patient since it is a primary health package, it does provide a very good starting point," explains Mary Ann C. Pia RN, EcoMed's Vice President for Operations.     
Apart from the PCF, EcoMed also has its own Dialysis Center as well as doctors' clinics covering a range of specializations.
EcoMed is located along Quimpo Blvd, cor. Tulip Drive, Ecoland, Davao City.  For more information, you may contact them at (082) 224-1883 or through email inquire@ecomed.ph.  You can also visit them at www.ecomed.ph or through their FB Page ecomedwellnesscenter.