THE UNIVERSITY of Mindanao (UM) officially inaugurated the Center of Green Nanotechnology Innovations for Environmental Solutions (CGNIES), the first nanotechnology center in Mindanao funded by the Department of Science and Technology-Philippine Council for Industry, Energy, and Emerging Technology Research and Development (DOST-PCIEERD) through the Infrastructure Development Program (IDP).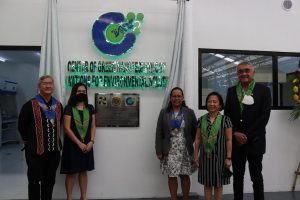 CGNIES was established to highlight green approaches to developing nanomaterials from local resources and their integration into micro and macro structures for developing technological solutions to environmental problems. 
DOST-PCIEERD Human Resources and Institution Development Division Chief Dr. Ruby Raterta, on behalf of Executive Director Enrico Paringit, highlighted that the Council has shelled out over 200 million pesos to equip centers like CGNIES all over the country. 
"The creation of this center will further strengthen UM's partnership with industries as it comes up with research projects and initiatives that will cater to the Davao region and the whole of Mindanao," Dr. Raterta added.
CGNIES envisions developing sustainable, scalable, and economical routes to functional nanostructured materials and providing solutions that will benefit the environment and humanity. 
DOST XI regional director Dr. Anthony Sales said that the Agency is committed to working closely with UM to ensure significant objectives will be delivered.
"We anticipate that UM, together with DOST, will play a key role in promoting green innovations in Mindanao and providing technological advancements that care for the environment and humanity," he added. 
Dr. Chosel Lawagon, the Center's Director and a Balik Scientist from South Korea, thanked her project team, industry and academe partners, and DOST-PCIEERD for making the project a success. 
"The support of the University and administration allows us to pursue meaningful innovation and research confidently," Dr. Lawagon expressed. 
Since 2020, Dr. Lawagon has been working with her alma mater on converting waste into nanoparticles and generating renewable energy through nanogenerators which bagged multiple awards. 
 "I hope the CGNIES will become an example of translating research into meaningful, innovative projects benefitting the community. May the CGNIES truly make Science for the people today and in the future," she added. DOST XI