THE TOP police officer in the region has vowed to go against individuals who peddle false information on social media that will sow alarm and panic among the public.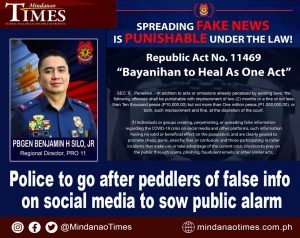 Brig. Gen. Benjamin Silo Jr., regional director of the Police Regional Office XI, issued a directive to his officers to investigate and file criminal charges if necessary. 
The warning comes in the wake of the circulation of Facebook posts alleging a spate of hold-up robberies, theft, kidnappings, and rape in the cities of Davao, Digos, and Panabo.
Immediately, personnel from the Regional Special Operations Group, Regional Intelligence Division (RID), Davao City Police Office, and the Regional Anti-Cybercrime Unit conducted a deeper investigation to verify the allegations. 
They identified  Charles Japheth Lagradante Luzada, an 18-year-old student from Toril District, as one of the persons who spread the post about a series of robberies in Davao City. 
Luzada has since issued a public apology for posting the false information on his social media account.
Nevertheless, police are now preparing a complaint for violation of Article 154 of the Revised Penal Code, stating that "any person who by means of printing, lithography, or any other means of publication shall publish or cause to be published as news any false news which may endanger the public order, or cause damage to the interest or credit of the State."
They will also file a case under Cybercrime Prevention Act of 2012, which imposes a penalty one degree higher. 
Likewise, under Republic Act 10591, the penalty for violations of Article 154 shall be imprisonment for six months and a fine ranging from PHP 40,000 to PHP 200,000.
"Fake news spreading in social media is very alarming, it has already caused panic and fear to the people, likewise, discredits the effort of our police in maintaining peace and order. We hope that this will serve as warning to the public to avoid spreading false information and posting fake news on any social media platforms. We will also pursue and investigate any post for clout which may affect public safety and order," Silo said.
Report to police, 
not on Facebook
Previously, Maj. Maria Teresita Gaspan, Davao City Police Office (DCPO) spokesperson, said that the alleged robbery incidents posted on Facebook were not reported to them, making it hard for authorities to verify the cases.
Gaspan also said one of the alleged cases of robbery involving a gunman on a motorbike in Catalunan Grande failed because the police responded even before anything was taken from the victim.
Other alleged incidents could not be confirmed because no one has formally filed a complaint with the police.
"We encourage them kung meron talagang nangyari magpa-blotter sila. Mag-report sa police station para ma-validate nato, ma-aksyunan nato, ma-account nato (We encourage them, if a crime really took place, they should file a police blotter. They should report to a police station so we can validate, take action, and take the case into account)," Gaspan said.
The DCPO has also revived Oplan Robbery/ Hold-up, Akyat Bahay and Theft (RAT Tugis), with police operatives focusing on investigating persons of interest identified to be involved in robbery and theft cases.
"Doon sa mga neighborhoods atsaka mga business establishments na may nangyayari, intensified 'yong efforts sa pag-gukod aning mga suspek na mga groups or individuals na involved sa kawat or tulis dinhi sa atong siyudad (In neighbourhoods and business establishments where incidents happened, our efforts are intensified in pursuing these suspected groups and individuals involved in robbery and theft in our city)," Gaspan said. With reports CIO