By Rick Robin P. Cagnaan – MY overall experience during the recently concluded Davao Pop Culture Mania was relatively enjoyable, as it had cosplayers, toy collectors, and local talents from the art and creative community. What's more is that featured prominent figures in the Pinoy komiks industry, such as Paolo Herras from Komiket, Kajo Baldisimo (the illustrator for the Trese graphic novel series, which got its Netflix adaptation), and our very own Ren Galeno; with the addition of Ian Velasquez, whose grand-uncle Tony and father Damian were cartoonists known respectively for comics such as "Kenkoy" and "DI-13" , and sponsors Artyst Space and Ikigai Studios. 
Having had a fair share of hobby conventions and art exhibits, and having heard about events organized by the likes of Komikon, Komiket, it's to my wonder that there wasn't any comic book convention in Davao City until Davao Pop Culture Mania came along. 
The event is the brainchild of Wilfred Dexter Tañedo, art coordinator and event organizer of La Herencia, who had envisioned this idea from the get-go. The goal of the event is to showcase the works of local talents from the art and creative community which deserves a lot of support. 
He was  supported by ComiPa, AmBox and the toy collecting community in the city. I recalled  that during the Philippine International Literary Festival back in November 2015, I asked Manix Abrera, the cartoonist behind Kikomachine Komix, about the possibility of a comic book convention in Davao City, from  which I got the idea from hearing about Komikon.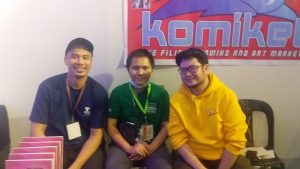 This was long thought impossible as financial constraints made such idea impossible to come to fruition, and then came the COVID-19 pandemic, which put these plans on hold. It wasn't long until I attended the Nihon Culture Cosplay Convention that people like me and Dexter Tañedo saw the potential in multi-hobby conventions, which help promote tourism, arts and culture, but also support the art and creative community in Davao City. 
With the help of Alter Moderne Events, La Herencia became a suitable venue for the event.  It opened on August 19, 2022, during the Kadayawan festival.
At the Davao Pop Culture Mania, we Kajo Baldisimo, Paolo Herras and Ren Galeno . Some acquaintances I met at the Art Hunt and Nihon Culture Cosplay Convention were members of ComiPa, one of the participating groups in the event. It was a very exciting time for the last three days of the event and I was glad to have enjoyed it, because after all, the Davao Pop Culture Mania could not have been possible without Dexter Tañedo, Komiket, and the art and creative community. (Photos courtesy of Rick Robin Cagnaan)