AFTER A two-year hiatus because of the pandemic, the Mindanao Trade Exposition (MTE) is back in time for the Kadayawan Festival.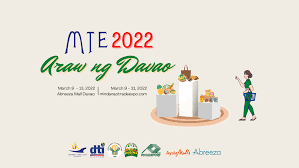 The MTE Kadayawan, with the theme "Buy Local, By Locals," opened Friday, Aug. 12, at the Activity Center of the Abreeza Mall.
Some 150 micro, small and medium enterprises (MSMEs) from all over Mindanao and the Visayas exhibit their goods and wares. MSMEs participating in the exposition come from the Davao, Caraga, SocSarGen and Bangsamoro regions, Zamboanga, Bohol and Cebu. 
Consumers can choose from an extensive selection of locally-sourced fresh produce and processed products, arts and crafts, home decor and houseware, gifts and premium items, furniture, fashion, beauty and wellness products, and others. 
 Mindanao Trade Federation Inc. (MTEFI) President Rosevic Del Rosario-Cembrano said the return of the MTE is Mindanao's way of reclaiming its stalled economic growth. 
She said the promotion of local goods ensures inclusive economic growth. 
DTI's Davao City director Rachel Remitio said the promotion of locally made products at the MTE will provide "MSMEs with a marketing platform and the hope of immediate sales and booked sales which will help them sustain their operations, and in turn, continue to provide jobs for their workers, thereby contribute to our common goal of inclusive growth." 
In a statement read by Councilor Alejandre, Mayor Sebastian Duterte welcomed all micro, small and medium entrepreneurs as he urged Dabawenyos to visit the exposition and patronize local goods. 
The MTE Kadayawan will be at the Abreeza Mall's Activity Center and Supermarket Hallway from August 12-19. 
The opening event was attended by the Mindanao Trade Federation Inc. (MTEFI) President Rosevic Del Rosario-Cembrano, Mindanao Development Authority Secretary Mabel Sunga Acosta, Davao City Department of Tourism (DTI) Field Office Director Rachel Remitio, Council Tourism Committee Chair Councilor Al Ryan Alejandre, Commerce and Industry Committee Chair Councilor Bernard Al-ag, Committee Chair on Agriculture Councilor Marissa S. Abella, and others.