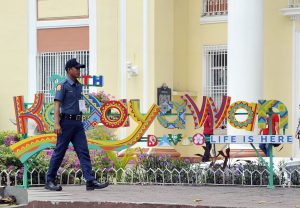 AT least 980 personnel will be deployed to different venues for major Kadayawan activities, according to the City Transport and Traffic Management Office (CTTMO) chief.
Dionisio Abude said the office is all set to implement its rerouting plan amid the partial and full road closures as part of the city's preparations for the 37th Kadayawan sa Davao Festival.
He said a partial closure was scheduled on Sunday, August 14.
He said, "Duna'y partial road closure for the entry of katong mga gamit himuong stage para sa showdown didto sa may Ponciano Bangoy-Roxas ug katong sa San Pedro. Regulated lang naa'y portion ngadto kon asa ibutang mga gamit. Mga truck gamitan ana, para dili maistorbo sa pagdiskarga. Approve na ni sa City Council (There was a road closure for the entry of props and equipment for the showdown stage along Ponciano Bangoy-Roxas Avenue and San Pedro Street. It's just regulated since only a portion will be used for the materials. Trucks will be used for that. The road closure is necessary so as not to disturb the unloading. This has been approved by the City Council)," he said.
Another partial road closure, according to him, is scheduled on August 18 for the installation of the main stage at San Pedro Square, although Crooked Road will still be passable on that day. From Ponciano, motorists can turn right to San Pedro Street.
On its Facebook page, the CTTMO released an advisory on the closed roads and alternate routes starting on August 20 from 6 a.m. onwards for the Indak-Indak sa Kadayawan.
The street dancing route will start from Roxas Avenue, passing through the corner of C.M. Recto Avenue, taking a U-turn to Rotunda Ponciano-Roxas Avenue, right turn to C.M. Recto Avenue – right turn to Bonifacio Street, left turn to Pelayo Street, and left turn to San Pedro Street.
Alternate routes from the north: J.P. Laurel Avenue-Quirino Avenue-McArthur Highway; J.P. Laurel Avenue-R.Castillo St. – L. Garcia St.-Quezon Boulevard-Quimpo Boulevard-McArthur Highway; and from the south: McArthur Highway-Quirino Avenue-J.P. Laurel Avenue; McArthur Highway-Magallanes St.-Quezon Boulevard; McArthur Highway-Sandawa Road-Quimpo Boulevard; McArthur Highway-Quimpo Boulevard-Quezon Boulevard.
Abude said the designated parking area for the mayor and vice mayor is on City Hall Drive while other VIPs can park at Magallanes Elementary School.
He also encouraged Davaoeños and tourists to take public utility vehicles such as jeepneys or taxis so they will not face parking problems during the Indak-Indak sa Kadayawan on August 20 and Floral Float parade and Pitik sa Kadayawan on August 21.
The CTTMO chief added, "Ako lang pahimangno sa tanan, una-una ang pag-observe sa minimum public health standards, naa'y face mask ug alcohol. Kay wala naman ta'y restrictions sa capacity sa indoor ug outdoor, ang matag individual na ang mutan-aw sa iyang kaugalingon kung mudikit ba sya o mudistansya (I'm reminding everyone to observe MPHS, wear a face mask and bring alcohol. Since we no longer have restrictions in indoor or outdoor capacity activities, each individual is responsible whether to practice physical distancing or not)."
Abude also urged everyone to go about their business, transactions, or other activities on affected routes ahead of the road closure schedule.