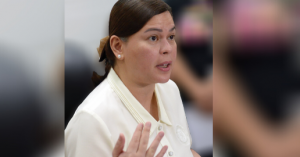 VICE President Sara Duterte lashed at her opponent in the 2022 elections, Dr. Walden Bello, for branding as silly the two counts of libel case filed against him by former city information officer Jefry Tupas that has resulted in his arrest.
Duterte, also the secretary of Education, said that for Bello to call the case as silly "speaks volumes of Mr. Bello's character — it was clearly derision of and an insult to the Prosecutors and the time and effort they put in to uphold the rule of law."
"Mr. Bello — supposedly a respected international educator and a human rights activist — took it so low and displayed a disgraceful version of himself, making him the perfect poster boy of someone we hope our children will not become when they grow up," she said in a statement released by her office.
She added: "Mr. Bello should focus on salvaging what remains of his dignity and self-respect, I am asking him to stop obsessing over me — and stop blaming me for his fall from grace."
She said instead of blaming her for what has happened, "playing the victim of an imaginary case of political persecution, and dragging me into his legal woes, I suggest that Mr. Bello be reminded of the fact that a civilized and democratic society does not respect hubris."
"The right to freedom of speech and expression does not protect anyone from defiling the name and reputation of others," she said.
On Monday, police arrested Bello in his house in Quezon City after the City Prosecution Office (CPO) approved the filing of the case against him and recommended a bail of P48,000 for every count.
The Laban ng Masa defended Bello, its chair, as it condemned his arrest whom it said he "has been victimized by this highhanded police operation speaks volumes on the state of democracy and freedom in the Philippines."
It said the arrest was a warning to human rights advocates that they might suffer the same fate "while standing up for the right to express one's views and criticize wrongdoings by the rich and powerful."
 "The cyberlibel case against Dr. Bello is clearly a proxy harassment with no less than Vice President Sara Duterte as the real protagonist. She uses a former aide as a cover for her own vindictive behavior," it said.
The CPO approved the filing of the case against Bello on June 9 based on the complaint filed by Tupas for the statement post on Facebook, which was attributed to the losing vice presidential candidate, on March 1 claiming that Tupas and her friends were "snorting P1.5 million worth of drugs" and that he was a drug dealer" as a result of a raid conducted by the Philippine Drug Enforcement Agency in November 2021.
Tupas, who resigned from his post as a result of the controversy, took exception to the allegation, claiming that it was baseless.