INCOMING Mayor Sebastian Duterte vowed that no Davaoeño will go hungry during his term in light of the rising food prices felt worldwide.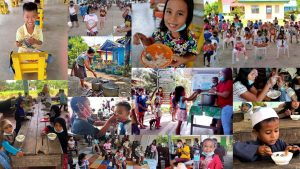 Recently, the incoming Mayor said he believes Davao City will continue to progress once the basic needs of her people are met. 
"I think everything else will follow if we address the basic needs of the people. Kung ma-fulfill na nato like education, peace and security, food and water, housing—kana lang na mga butang. If na-deliver na sa tanan, labaw na 'tong nanginahanglan gyud ana (If we deliver these to everyone, especially those who are most in need of them), then I think we'll be happy and we can move on to bigger things … But I'll make sure na kadtong mga basic gyud kaayo na mga panginahanglan sa mga tawo, labi na sa kapobrehon, maatiman (that the very basic needs of the people, especially of the poor, will be taken care of)," he said.
Meanwhile, the outgoing vice mayor reiterated that his leadership style will not be so different from that of President Rodrigo Roa Duterte's and outgoing Mayor Inday Sara Duterte's approach to governance.
In particular, he said that Mayor Inday Sara's 'ten-point priority agenda' has been proven effective in structuralizing the city's most urgent areas of concern, and therefore merits continuity. He said, "Mas maayo mapadayun kay nakita man pud nato na effective pud siya (It would be better to continue because we have seen its efficacy)."
He added that he will boost the outgoing administration's efforts to decentralize government services and operations in a bid to promote ease of access to citizens in far-flung areas. "Kay dako man gud kaayo atong land area so kinhanglan gyud ta—para inclusive ato'ng governance—kinahanglan ta mag-decentralize pud gyud. So, kinahanglan mag-put up ta og mga satellite offices. We've been doing this ever since. Improve lang ta diha (Due to our extensive land area, we really need—for inclusive governance—to decentralize. We need to put up satellite offices. We've been doing this ever since. We just have to improve on this aspect)," he said.
To further promote ease of doing business with the city government, the outgoing vice mayor said he is determined to fully modernize the operations of city offices by integrating digital tools and putting up online platforms to provide service to all Davaoeños. 
"Ako, gusto nako og kuan gyud, i-modernize ang mga offices gyud (I really want to modernize the offices). Mga online, ana gud, kanang mga bag-o karon ba (Online transactions, those kind of things). Technology ba, use technology to make things easier for everybody; not only the people working in government but also for the people who have transactions with the government."
Parallel to the direction of continuity, the acting mayor expressed his resolve to push for the ongoing big-ticket projects of the city. These include the high-priority bus system (HPBS) and the Waste-to-Energy (WTE) project.  
Outgoing Vice Mayor Sebastian Duterte is set to be sworn into the mayoral office on June 27.