THE LOCAL government here will retain all mobile vaccinations following the planned transfer of all mall-based and park vaccinations to the city's 18 district health centers after June 30.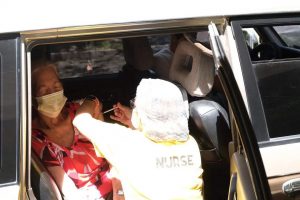 City COVID-19 Task Force spokesperson Dr. Michelle Schlosser said, "Ibalhin ang vaccination hubs sa malls padulong sa atong district health officers pero ang mobile vaccinations na ginahimo sa atong mga konsehal, ang school-based vaccinations ug ang sectoral vaccinations sa mga private and public offices will not stop (The vaccination hubs in malls will be moved to the district health centers but the mobile vaccinations of our councilors, the school-based vaccinations and sectoral vaccinations in private and public offices will not stop)."
Since district health centers only operate on Mondays to Fridays from 8 a.m. to 5 p.m., the Davao COVID-19 Task Force's Vaccination Cluster has requested to have at least one mall vaccination site per congressional district to accommodate individuals who are only available on Saturdays.
"We have also requested a special set up of retaining the drive-thru vaccination. Hopefully, ma-retain (it is retained). We are waiting for the approval of our requests," she said during the COVID-19 Alert program of the 87.5 FM Davao City Disaster Radio on June 22.
Current drive-thru vaccination sites include the People's Park and Crocodile Park, although the former also cater to walk-in vaccinees for 11 to 17 years old and 18-above segments. The vaccination teams in these two parks will also transfer to the district health centers.
While the district health centers provide regular services daily, such as routine vaccination on Wednesdays, or prenatal and cardiovascular services on respective days, a vaccination team will be solely for anti-COVID-19 immunization that will be operational from Mondays to Wednesdays from 8 a.m. to 5 p.m.
Dr. Schlosser also said that additional manpower will be provided for the district health centers to prevent hampering the regular services.
The mobile vaccinations, according to her, will still cater to the adult and pediatric population 12 to 17 groups whether they need the primary first and second doses, missed doses, or booster shots. 
But the mobile vaccination for the pediatric 5-11 age group will be held in schools. First or second doses will be administered to them. 
Dr. Schlosser said this is the population group with a very low turnout of vaccinees, and that's why they are intensifying the school-based vaccinations.
With a target of immunizing 242,209 five to 11 years old, at least 8.84 percent (21,410) received their first jabs, and only 7.17 percent of this, or 17,359 got their second doses.
Based on the 80.67 percent of the total population target of 1,531,004, Davao City has reached 87.43 percent or 1,338,584 have received their first anti-COVID-19 vaccine shots as of June 17, 2022. Of this number, 1,320,221 or 86.23 percent already completed their two-dose primary series. However, only 273,238 have taken their first booster dose, of whom 27,140 got their second booster shots.