DAMOSA  Land Inc, the leader in the real estate and property development industry in Mindanao, has finally moved in to their new address last June 9 at the 15th level of Damosa Diamond Tower, located within Damosa I.T. Park, along JP Laurel Avenue, Davao City.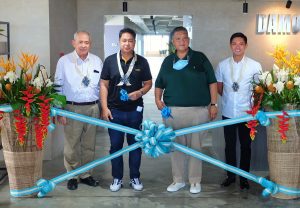 The inauguration and blessing of the new DLI office was led by no less than real estate and construction group president Ricardo F Lagdameo, Anflo group of companies vice president Ricardo R Floirendo, Agri Group, DAI, Securus and Pitrade president and CEO Vincent Floirendo, and incoming Davao City vice mayor Jay Melchor Quitain Jr.
"This is a momentous occasion for DLI, especially to our tenants and future tenants as well as our business partners. We are very thankful that we are able to finish the building in record time in spite of the pandemic," said Lagdameo in his welcome message.
Designed by renowned architect Cathy Saldaña, the Damosa Diamond Tower architecture pays homage to their agricultural heritage, giving a nod to the banana fibers with its sleek curved silhouette, plus the installation of stylish sun baffles that actually help divert heat inside the building and pirouette everytime light is reflected.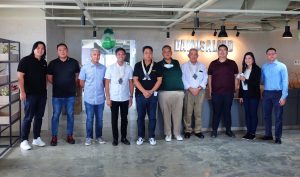 The environment-friendly features of the building has earned it various recognition including a green design award that it is set to receive in the United Kingdom this month. The Damosa Diamond Tower is also the first in Mindanao to complete the EDGE certification in Mindanao, and it is also BERDE (Building for Ecologically Responsive Design Excellence)-registered property.
"We hope to continue the great momentum we have here in Davao City especially in real estate, tourism, and other industries. We are here as your partner in progress," he said.
Lagdameo also said that there several locators, mostly new to Davao City, that are expected to soon make Damosa Diamond Tower their hub in Mindanao.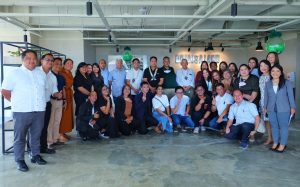 He also recognized the hardwork that his employees have contributed to the growth of the Davao City and their companies.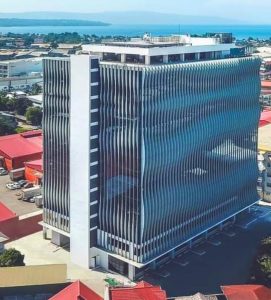 "We should be proud of the city's progress because you are also a part of it," Lagdameo added.
Vice mayor Quitain also lauded DLI in his speech, thanking the Floirendo family for being the "pioneers of progress and development in the city".
"The city is thankful to the Floirendos for continuing to invest in the city and in giving  opportunities to Dabawenyos in terms of employment. What we can do is to continue to provide ease in doing business to our investors. We will not rest on our laurels. In fact, we will work harder to help lift everyone up from the debacles of this pandemic, " Quitain assured.
The office's blessing was officiated by Fr Pete Lamata of St Francis of Assissi Parish.