SECURITY units have tightened borders leading to the city and come up with intensified measures following the explosions in Koronadal City in South Cotabato and Tacurong City in Isulan Sultan Kudarat.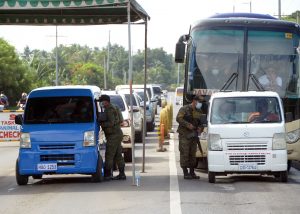 The Task Force Davao also recommended the temporary suspension of passenger loading in designated bus loading/unloading zones in the city, urging passengers to go through the Davao City Overland Transport Terminal (DCOTT) for passage.
In an interview on Sunday, TF Davao Commander Colonel Darren Comia said that the move to enhance border controls and passenger security inspection was spurred by the blasts, which occurred aboard passenger buses in the two cities.
"Nagrecomend na tayo na 'wag na munang magpasakay doon sa mag designated bus loading and unloading zones dito sa downtown Davao City. Dahil ito sa panghitabo last week didto sa Tacurong and Koronadal ng South Cotabato. Naay pagsabog, pagbuto didto and ang pagbuto didto sa bus. Busa lagi nagrecommend na tayo … Temporarily, pinagbawal muna natin ang pagsakay sa mga designated loading and unloading zones. Ginagawa lang naman natin ito nang sa ganun lahat ng mga pasaherong sasakay palabas ng davao city kinahangaln gyud ma check, ug kinahanglan gyud didto sila musakay sa DCOTT sa may Ecoland. Because, didto macheck gyud tanan pasarehos labi na ilahang mga butang para safety tayo," he said.
Although passengers are not allowed to board buses at designated zones outside of DCOTT, the task force commander clarified that they may still get off the bus at these zones.
"Pwede man sila mag-unload ng mga pasaheros na gikan sa gawas kay nainspect man ang mga pasaheros sa atong mga border control points. Tanan na mga butang na gikan sa gawas kay nainspect na man sila sa mga border control points. Busa lagi okay ra sa amoa na magbaba sila sa mga unloading zones. Ang problema kadtong laoding, kadtong pagawas ng Davao City. Kinahanglan gyud didto sila sa DCOTT musakay para safety ilang biyahe padulong sa mga probinsya, " Comia added.
TF Davao assured Dabawenyos that these security measures are temporary.