THE SOLDIERS under the 10th Infantry Division recovered another arms cache with six high-powered firearms in the vicinity of Sitio Spring, Barangay Sinaysayan, Kitaotao, Bukidnon on May 25.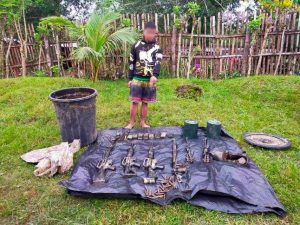 The 72nd Infantry Battalion recovered one M653 rifle, one M16A1 rifle, one Garand rifle, three M4 Carbine rifles, and war materiel, including 60 rounds of 30 caliber ammunition, two rounds of 40mm ball, eight magazines from an M16 rifle, five clips from a Garand rifle, two 12-kilogram anti-personnel mines, and one bandolier.
According to Lt. Col. Jose C.Regonay Jr., the commanding officer of 72IB, the recovery of these firearms was made possible through the revelation of Mayunie Man-inday Sayad alias King, who also previously revealed the location of six high-powered firearms in Kitaotao on May 20.
Moreover, LtCol Regonay told that the communist rebels buried the said firearms and then posed as civilians while fleeing the area during the conduct of intensified Focused-Military Operations by the 72IB, 39IB, and 73IB all under the supervision of the 1002nd Infantry Brigade.
MGen. Nolasco A. Mempin, 10ID commander, lauded the Agila troops for the continuous recovery of firearms in the 10ID area of responsibility.
"The cooperation and support of former rebels in revealing their arms cache is a clear manifestation that, indeed, we have gained their trust and confidence," Mempin added.