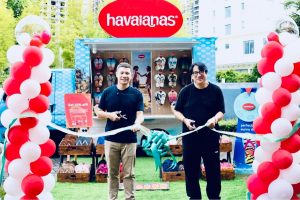 DAVAO'S loyal Havaianaticos rejoiced when Davao's Queen of flip flops, Marga Montemayor-Nograles, finally made her fashionable appearance after so many years of absence at SM Lanang Premier last May 15, 2022, at 4:30 p.m.  But during this much-awaited time, it was not a Havaianas pop-up shop she was opening to introduce the new lines of stylish flip flops and sandals for men, women, and children.  Mind you, but Marga, through the Martish Marketing Company, brought along and launched the first-ever "Foot Truck" in the region.  Martish (coined from the names of business entrepreneurs Marga Montemayor-Nograles and Tisha Ang-Dominguez) Marketing Company is the exclusive distributor of Havaianas in Southeast Mindanao.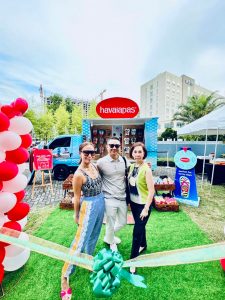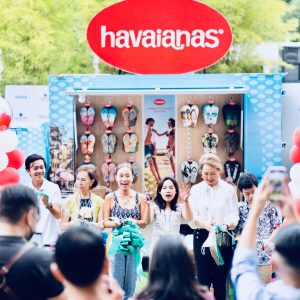 "The Havaianas Foot Truck concept came about during the Covid Pandemic as a solution to 'if you cannot come to us, we will go to you.'  It is a rolling store that will allow Havaianaticos to experience colorful days with Havaianas anytime and everywhere while getting the first dibs on the latest must-have styles of your favorite flip flop brand," revealed Marga while she continued, "The Havaianas foot truck can travel from one open air venue to the next while celebrating summer.  And of course, we all dream and hope for life to get back to some sense of normalcy again."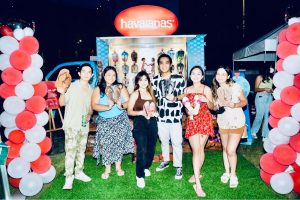 "We just felt it was time to go out, dress up, shop, and hang out with friends again.  But we should always keep in mind to keep safe and follow the necessary health protocols while at it," reminded Marga who is, by the way, on the list of both Metro Magazine and Mega Magazine's Best Dressed Women. Of course, the bright and talented Marga continues to celebrate, honor, and promote Mindanao artistry through her Kaayo Modern Mindanao clothing line as part of her advocacy for helping our marginalized tribal women.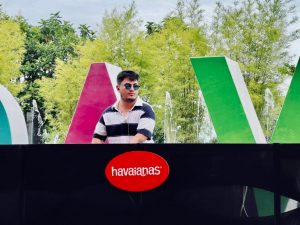 The Havaianas Foot Truck launch is the first event Martish Marketing Company has had in two years.  "And SM Lanang Premier is such an amazing partner in staging this event," said Marga.  Tomas Lorenzo of dusitD2-Davao/Dusit Thani Lubi Plantation Resort and Manila's renowned PR personality Keren Pascual were invited to cut the ceremonial ribbon.  Marga was so happy to be with her children Mateo, Massimo and Nikka; her mom, Baby Maceda-Montemayor, and mom-in-law, Bebet Bendigo-Nograles, for this special Havaianas launching event.  "This COVID Pandemic has taught us that the most precious thing in life is family.  And Havaianas is for family after all," expressed Marga.  Indeed, it was a wonderful day made more vibrant with music by DJ Julian Rodriguez, food, fashion, and friendship.
   The Havaianas Foot Truck will be at SM Lanang Premier until May 31, and will then move to SM City on June 1-15, 2022.