THE CITY COVID-19 Task Force intensified the sectoral mobile vaccination in private and public offices and establishments to improve the city's booster vaccination rollout.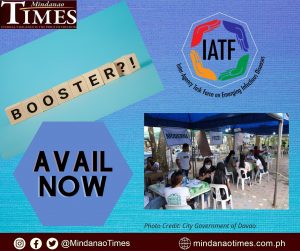 Dr. Michelle Schlosser, the spokesperson of the Davao City COVID-19 Task Force, said, "We had a fruitful meeting with the bankers association of Davao. They're very cooperative. Hulat nalang sa ilang supposed dates kung when ma-fit sa schedule sa employees. Haruson nalang pud ilang mga family members (We're just waiting for the feasible dates for the schedule of the bank employees. We will include their families as well)."
In a vaccination cluster report, at least 80 employees of Seda Hotel were vaccinated on May 20, 2022, while 65 were inoculated at the Agdao Public Market.
"We are also doing vaccination in our public markets. Nauna ang sa Agdao and for scheduling (We had it first at the Agdao public market and set for scheduling are the) Bankerohan and Toril public markets. We have tentatively arranged a mobile vaccination at the Banko Sentral ng Pilipinas on May 27," she said during the COVID-19 Alert program of 87.5 FM Davao City Disaster Radio (DCDR) on Wednesday, May 25, 2022.
The task force earlier met with the business process outsourcing (BPO) industry to also help in the city's booster vaccination program. However, the schedules of mobile vaccination in different BPO offices are still being finalized, along with the master listing of employees and their dependents.
Meanwhile, only 58 received booster shots out of the 1,000 fully vaccinated employees in the government onsite vaccination at the City Environment and Natural Resources Office on May 16, 2022.
At least 32 of the 100 targets already got their booster jabs at the City Veterinarian Office on May 17, 2022, and 31 had their boosters at the Land Transportation Franchising and Regulatory Board (LTFRB) regional office, exceeding the 23 individuals-target.
Vice President-Elect Mayor Sara Duterte urged Davaoeños to get their booster shots as soon as possible since these are already available at vaccination sites.
She said, "Remind lang pud ta sa tanan nga 18 years old and above are qualified para magpa booster shots dili napo ta magdugay dugay og kuha sa atong booster shots (Reminding all 18 years old and above who are qualified to get their booster shots now and not dilly-dally anymore)."
While Davao City's rollout of the premier anti-COVID-19 vaccines remains high at 1,331,671 for the first dose and 1,313,795 for the second dose, the booster rollout remains low.
Of the 258,589 individuals who received their first booster doses, only 7,506 have gotten their second booster jabs.