THE CITY Health Office recorded no maternal death in Davao City for the first quarter of 2022, unlike the four deaths logged for the same period in 2021.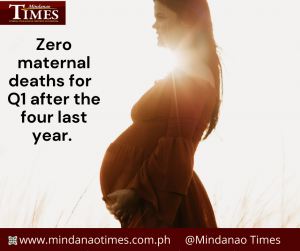 This was in the wake of the city government's intensified safe motherhood program, which appears to be on track toward combatting last year's alarming trend.
In an interview during the Madayaw Davao aired over the Davao City Disaster Radio, Dr. Julinda Acosta, the head of the CHO's Technical Division, said the city's intensified maternal health programs—which offer free prenatal, safe delivery, and post-partum services—are accessible for all expecting women, even those who remain unimmunized from COVID-19. 
The free maternal health services include prenatal consultations, basic laboratory tests (such as hemoglobin tests, simple urinalysis, and STI screening), dental care, birth planning, and post-partum care.
Aside from providing free medical health services, the CHO's intensified safe motherhood program also underpins a socio-cultural approach by aiming to change Davaoeños' attitude toward family planning and maternal health, starting with the call for more active participation from the father during pregnancy. 
In addition, according to the CHO's Technical Division Head, the City Health Office is also urging pregnant women to opt for facility-based delivery instead of birthing at home. This is to ensure that mothers will be provided with the essential medical care during and after delivery. She said, "We are now promoting facility-based delivery so within 24 hours they are inside the facility."
 The CHO Technical Division Head invites all expecting women to avail of the city's maternal health programs so they can receive quality prenatal care and motherhood services. Those who wish to avail themselves of the safe motherhood program can visit the nearest health center or barangay health station.