THE DAVAO City Police Office (DCPO) already filed a case against the teacher who allegedly molested four elementary pupils in Bangkas Heights, Toril District.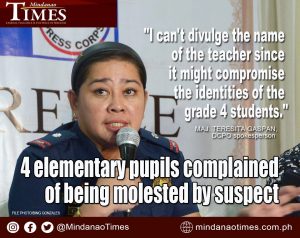 In an interview on Tuesday, DCPO spokesperson Maj. Teresita Gaspan, said they can't divulge the name of the teacher since it might compromise the identities of the grade 4 students.
"The case was filed last May 20, but I cannot give you the report for confidentiality," Gaspan said, adding that the memorandum order came from the Police Regional Office XI. 
In a separate interview, Department of Education (DepEd) XI spokesperson Jenielito Atillo said that they have launched a separate investigation into the issue.  
"We are made aware of this report already, and Davao City DepEd is now looking into the matter," he said.
When asked about the status of the teacher, Atillo replied, "Wala pa koy details as to kanus- a nahitabo pero ni explode ni last Friday. Niagi na sa barangay ug pulis on the same day (I don't have the details when it happened, but this exploded last Friday. It passed through the barangay and the police on the same day)," he said.
According to one of the mothers, alias Cherry who spoke to Brigada News Fm Davao, the teacher turned her daughter around the table and then dragged her away. She said that her daughter went to the school with her cousin, who is the suspect's student.
Moreover, another mother, alias Jane, could hardly contain herself since she did not expect a person she trusted could do that to her daughter.
According to her, she was surprised that her daughter would take so long to come home at noon. However, she could not have imagined the ordeal that her daughter went through at the hands of the sexual predator.
She only learned of the incident upon receiving a text message from a parent of her daughter's classmate. She admitted to shaking in fear and helplessness when her daughter confessed everything.
According to the report, the girls were all molested inside the locker room.