A Davao del Norte-based consumer group has called on the next administration to pursue the construction of key infrastructure facilities in the Davao Region because of their importance to the economic growth of the region. Among these projects that have yet to be implemented is the bridge between Davao City and the Island Garden City of Samal.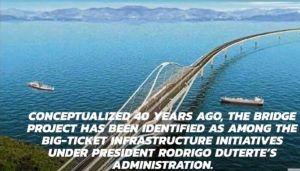 The administration of outgoing President Rodrigo R. Duterte has identified these projects as those that would become huge components of economic growth of the region. The bridge is very important, said Ava Rose Castillo, convenor of DavNor Modernization Movement, because this will not only connect the two cities, but will also serve as key facility in improving the electricity of Davao del Norte. "The construction of the bridge is a key component in our desire to ensure that the province will have a better and affordable electricity," said Castillo as she pointed out that the bridge will serve as the foundation of a better transmission system for Samal, the city in the region considered as its main tourist destination.
The proposal is that the transmission system will be placed under the bridge as this will shorten the distance between the source of electricity and the consumers. The distance between the two points will only be about a kilometer. Castillo also called on the North Davao Electric Cooperative to halt its implementation of the P1.8 billion submarine cable for the city as the cable would run between Maco in Davao de Oro and the island city by the distance of 14 kilometers.
"We could not understand the logic of this cable project in Maco because, aside from resulting in higher rates of power, it is longer and may even face possible scrapping because this has not been approved by the regulators," Castillo said. Based on reports, the Energy Regulatory Commission has not provided any go signal to the Maco project, while the cooperative announced it has started implementing it.
Under the law, all huge projects of power companies must first get approval from the ERC before they can get implemented. Castillo hopes that the next administration will immediately implement the project considering that among those clamoring for its realization is the presumptive vice president, Davao City Mayor Sara Duterte.
Another key supporter of the project is Samal City Mayor Al David Uy, who just won another term. "We hope that with these names backing the project, the next administration will also realize its importance," Castillo added.(pr)