DAVAO CITY – The Department of Trade and Industry (DTI) 11 has urged consumers to assert their rights, especially when it comes to accessing goods at correct prices. 
 To recall, the agency's newly issued bulletin on suggested retail prices (SRPs) took effect on May 11. Hence, DTI XIhas intensified its monitoring activities in the region, ensuring that such is being adopted strictly.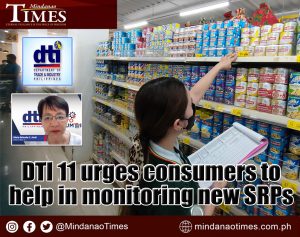 DTI XI regional director Maria Belenda Q. Ambi said that the regional and provincial/field offices of DTI XI had been regularly monitoring different business establishments to check the prices of basic necessities and prime commodities (BNPCs) they sell. Meanwhile, it calls on the public to do their part by using the new SRP bulletin as their reference in their purchases. 
 The latest SRP list covers the 218 stock-keeping units (SKUs) of BNPCs under DTI's jurisdiction. Of the said total, 136 or 62 percent of them have retained their prices according to what was contained in the SRP bulletin issued on Jan. 27 this year.  
The trade official shared that the agency has approved a minimum increase for 82 BNPCs in its latest list of SRPs. These products include bread, canned fish, potable water in bottles and containers, processed milk, locally manufactured instant noodles, coffee, salt, laundry soap, detergent, candles, flour, processed and canned pork, processed and canned beef, vinegar, fish sauce (patis), soy sauce, toilet soap, and batteries. The guide includes additional SKUs, such as the Bareta Bar White (360 grams) and Bareta Bar FabCon (360 grams).  
However, it can be noted that 86 percent, or 71 out of the 82 SKUs with approved price increases, have made an adjustment of not more than 10 percent amid the spikes in the prices of fuel products and raw materials. 
 "The increases were just from two percent to 10 percent, which means that these are still less than the movements of raw materials' prices in the global market," Ambi said, adding that the changes in the SRPs of the DTI-covered BNPCs are necessary to also help the manufacturers in keeping up with the demand despite the noted escalations in their production costs.   
To further explain this recent development, the DTI head office illustrated that the prices of major raw materials like tamban (for canned fish products), mechanically deboned meat (for processed meat products), buttermilk (for processed milk), and palm oil (for toilet paper and instant noodles) jumped by 0.56 percent to 32.14 percent. Additionally, fuel prices went up by 28.84 percent. 
In the meantime, business establishments are reminded to follow the SRPs, while the field offices of DTI 11 are closely monitoring those within their areas of operation. This will help the government ensure compliance with the Price Act, thus protecting consumers' interests. 
"It has always been our commitment to protect consumers from unscrupulous business practices. Hence, we encourage everyone to communicate with us whenever they observe discrepancies in the prices of goods when compared to the SRPs. You may contact our official social media pages in seeking assistance so that we can facilitate the needed action," the local trade official said. 
The public may contact the Facebook page DTI Region XI for concerns and inquiries related to the latest SRP bulletin. DTI11/JMM