THE FREE teleconsultations and swabbing services in COVID Cluster Clinics (CCC) are still accessible for Davaoeños who will experience coronavirus disease symptoms.
In an interview with the Davao City Disaster Radio, Dr. Michelle Schlosser, City COVID-19 Task Force spokesperson, said that these are two of the COVID-19 services offered by the city government.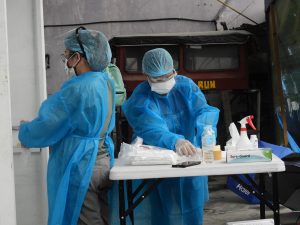 Free swabbing is available at the CCC in Sta. Ana Health Center while the teleconsultation services will also start in the soon-to-be-completed CCC in Calinan and Ilang.
"Even if dili pa siya physically operational ang COVID Cluster Clinics [CCC Calinan and CCC Ilang] nato, we are already doing teleconsultation. (Even if not physically operational our COVID-19 Cluster Clinics [Calinan and Ilang] are already doing teleconsultations). We are utilizing the logistics of CCC 1 Sta. Ana for the swabbing, quarantine, and isolation, as well as contact tracing," she said.
The city's swabbing centers and molecular laboratories remain functional – the Los Amigos Molecular Laboratory, Davao International Airport (DIA), Southern Philippines Medical Center (SPMC) Molecular Laboratory, and the Brokenshire Molecular Laboratory.
"It is all operational. Wala ta'y gi-undang na strategy wala ta'y gi-stop na operations (It is all operational. We did not stop any strategy, we did not stop operations), especially for swabbing, contact tracing, quarantine, and isolation because these are all strategies under Prevention, Detection, Isolation, Treatment, and Reintegration Plus (PDITR Plus)," she said.
While they suspended the expanded contact tracing using the DQR, health officials have continued the traditional contact tracing wherein the close contacts of the COVID-19 positive had to be swabbed. Quarantine and house quarantine remained in place.
Meanwhile, Schlosser bared that on May 18, two people tested positive for COVID-19 out of the 521 swabbed.
Protocols in place as 
Omicron risk continue
Meanwhile, the task force reiterated the importance of the continuous practice of the minimum public health standards (MPHS) after the DOH detected two Omicron sub-variants in Luzon and Western Visayas. 
Although the Task Force had assured the public that it is ready if the Omicron subvariants enter Davao City, it cautioned against relaxing the measures on social distancing, proper wearing of facemask, and frequent hand sanitizing. 
According to the DOH, the two subvariants, BA. 4 and BA. 2.12.1, are alarming in the sense that prior infection to other COVID strains does not mean immunity from them, making public health precautions even more essential in preventing another spike of cases. 
Mayor Sara Duterte on Monday, during the Special Hour program, said that although it appears that no surge will be hitting the city anytime soon, Davaoeños are urged to practice the MPHS and avail of second booster shots as soon as they can.