TWO WEEKS after the elections, Davao City continues to enjoy a low COVID-19 positivity rate at an average rate of 0.53 percent from May 8 to 21, 2022.
 Also, the LGU is still under a minimal risk classification for five straight weeks.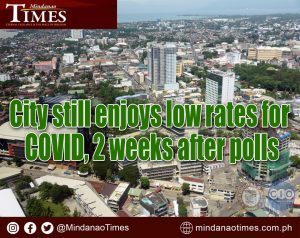 "So far, sa pagkakaron, we don't see impending surge. Very low lang gihapon ang atoang mga cases (For now, we don't see impending surge. We still have very low cases)," Mayor Sara Duterte said in an interview on Davao City Disaster Radio Monday.
Based on the COVID-19 Task Force data, the city posted an average daily positivity rate of 0.53 percent from May 8 to 21, which also covered the election day when more people converged at polling places.
For this week, May 23 – 28, 2022, the city's "minimal risk" status is attributed to a -19.35 or "low" two-week growth rate and 0.09 or "low" average daily attack rate, according to the task force data. 
Also, all 180 barangays are under minimal risk. In comparison, two barangays—Bucana and Matina Crossing— are categorized as "low risk," having recorded three and two COVID-19 cases, respectively, for the past one to two weeks. 
While the city still enjoys a low number of cases, Duterte reiterated the city government's reminders for the public to always adhere to the minimum public health standards, especially the wearing of face mask and getting two doses and booster shots of the anti-COVID vaccines to avoid the risk of severity of the coronavirus disease.
In the event of a coronavirus surge, the city government will still apply the same response to the evolving COVID-19 pandemic, except that the facilities to be used are government spaces.
"Mao lang man gihapon ang COVID-19 response nato except that sa pagkakaron ang atoang facilities are all government properties na lang. Wala na tong mga private properties nato na mga facilities. Atoa na tong gipang-uli didto mga donors ug nagpahulam (We will still have the same COVID-19 response, except this time our facilities are all government properties. The private properties were already returned to the donors and those who lent it to us)," Duterte said.