THE CITY government has dangled a kilo of rice to encourage more Davaoeños into receiving the booster shot.
Dr. Michelle Schlosser, the spokesperson of the City COVID-19 Task Force, bared this in an interview during the COVID-19 Alert program of 97.5 FM Davao City Disaster Radio (DCDR) on Wednesday, May 11.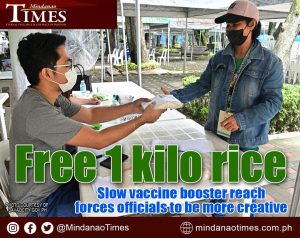 "This started on April 26 but was not just properly announced. Ang kinsa magpa-booster dose makadawat og isa ka kilong bugas maski asa sa mga operational vaccination hubs nga naga-cater og boosters (Whoever wants to get a booster dose will receive one kilo of rice in any of the city's operational vaccination hubs that are catering to boosters)," she said.
But the free rice is only available until the supply lasts.
The task force is bent on creating ways to encourage more Davaoeños to avail of the free booster vaccination because of the slow reach. As of the Vaccination Cluster's May 6 report, only 252,267, or 19.24 percent, of the 1,311,008 fully immunized individuals in the city have received their first booster jabs.
From the 249,360 who received their first boosters as of April 29, 2022, only 2,907 were added to that number after one week. Of the 252,267 who got their first booster shot, at least 734 or 0.29 percent received their second booster dose as of May 6, 2022.
Dr. Schlosser said, "From our first announcement that only the immunocompromised individuals can avail of the second booster dose, we can now roll it out to all A1, A2, and A3 priority groups, as well after receiving the directive and guidelines from the Department of Health."
Medical frontliners (A1), senior citizens (A2), and adults with comorbidities (A3) can start getting their second booster shots at least three months after receiving the first booster dose.
The city health official said that fast lanes have been set up for business processing outsource (BPO) workers at the People's Park and for public utility drivers at the Crocodile Park. These two parks are operational from Mondays to Saturdays, catering to 12 years old and above vaccinees needing primary and booster doses.
Meanwhile, Dr. Schlosser also called on parents and guardians to have their children aged five to 11 years old vaccinated as soon as possible since face-to-face classes have started in some schools and a lot of young students remain unvaccinated.
Of the target 242,209 vaccinees in the five to 11 age group, only 16,846 or 6.96 percent received their first doses while 13,692 or 5.65 percent have gotten their second jabs.