NINE men were arrested when illegal drugs and unlicensed firearms were seized from their possessions at the checkpoints in Lasang, Calinan, and Toril districts after election day.  
Capt. John Louie Dema-ala, the Task Force Davao spokesperson, said the biggest catch was on Wednesday, May 11, after the Task Group Lawin and the Bunawan Police Station arrested Villancio Niño Simudlan, 38, married, a resident of Port Poyohon, Butuan City, Agusan Del Norte at around 4:30 am at the Lasang checkpoint in Bunawan.
Seized from Simudlan were two sachets of suspected shabu that weighed around 7.41 grams with an estimated street value of P118,560.
Earlier, Task Group Agila and the Calinan Police Station caught three alleged drug users at 12:05 am at the Barangay Lacson checkpoint.
The suspects were identified as Leo Bendanillo Gerona, 30, married, a resident of Purok 5, Maramag, Bukidnon; Ranilo Blabagno, 39, a resident of Camp Maramag, Bukidnon; and a certain Mark, 17, single, a resident of Camp Maramag, Bukidnon.
Intercepted from them was a sachet of suspected shabu weighing more or less 0.21 grams with an estimated street value of P3,360, along with drug paraphernalia.
On the same day at 1:35 a.m., the Task Group Falcon and Toril Police Station apprehended Nor Hassan M. Radiamoda, 26, married, and a resident of Barangay Sirawan. Confiscated from the suspect was a sachet of suspected shabu weighing around 1.6 grams with an estimated street value of P25,600.
On Tuesday, May 10, the authorities at Lacson checkpoint apprehended Mhielboy Guillera, 25, single; Jasper John Apostol, 20, single; and, Ronald Quirante 38, single, all residents of Bakusanon, Pangantukan, Bukidnon.
Dema-ala said the suspects were reportedly engaging in "paihi" modus were riding a Fuzo forward truck bearing temporary plate number 1230-00000094811 traveling toward Dacudao, Calinan. A sachet of suspected shabu weighing around 0.23 grams with an estimated street value of P3,680 was also found in their possession. 
The modus involved siphoning fuel from a vehicle or oil depot and selling it at a lesser price. 
Also recovered from the suspects were drug paraphernalia; and, 15 pieces of 20-liter containers filled with diesel. 
At 4:35 pm of May 10, Task Group Agila in Calinan accosted Jamil M. Imam, 49, married, and a resident of Pinalangca, Pagayawan, Talarihan, Lanao del Sur, driving a Gray Toyota Hi-Ace van traveling towards Davao City. 
Intercepted from his possession was a .38 caliber revolver with six rounds of live ammunition.
Task Force Commander Colonel Darren E. Comia congratulated the troops for working overtime to ensure that Davao City is safe from criminal elements despite being undermanned as the majority of them were deployed around the city for election duties.
All the suspects and evidence were placed under the custody of the Davao City Police Station for proper disposition.
2 arrested in 
drug buy-bust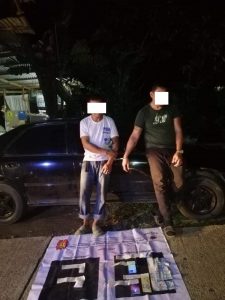 Meanwhile, a government driver and another driver were arrested during a buy-bust operation conducted at Monte Maria Subdivision on Wednesday at 7:20 p.m.
Maj. Reuben Libera, the Special Operations Group/City Drug Enforcement Unit head, identified the suspects as Silas Jimson Abarquez, 38, a driver of DPWH and a resident of Barangay Gumalang, Baguio District, and Emmanuel Grancho, 48, driver from Barangay Tuganay, Carmen Davao Del Norte.
They were included on the drugs watchlist in the region, the police said. The suspects were arrested after a police poseur-buyer bought a suspected shabu worth P20,500 from them. Also, seized from them are more or less 57.5grams worth P900,000.
For now, the suspects are under the custody of the Special Operations Drug Enforcement Unit.
Meanwhile, a case for violation of the Republic Act of 9175 (Comprehensive Dangerous Drugs Act of 2002) is being prepared to be filed against them.