VICE MAYOR Sebastian Duterte is leading the mayoralty race in the city with more than 590,000 votes, the partial and unofficial results from the Commission on Elections (Comelec) revealed yesterday.
The vice mayor is leading among three candidates for the post.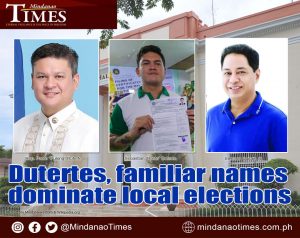 The figures were based from the partial and Unofficial Results as of 2:17 PM, May 10, representing 95.32% Election Returns (1,345 of 1,411 Election Returns) (703,733 of 992,538 Registered Voters).
The presidential son is leading for mayor in Davao city with 593, 064 votes. Ruy Elias Lopez (IND) placed a far second with 67,313 votes, followed by Joseph Hannibal Elizalde with 3,004 votes.
Elizalde was followed by Teddy Mantilla with 1,002 votes. 
Meanwhile, even when running unopposed, Melchor Quitain Jr. still got 535,997 votes.
For the congressional race in the first district, Paolo Duterte was in the comfortable lead with 211,872 votes, followed by Mags Maglana with 14,101 votes, and Jamal Kanan with 1,361 votes. The last candidate for the position, Jovanie Mantawel, garnered 641 votes. 
For the same post in the second district, Vincent Garcia is leading with 151,659 votes followed by Danny Dayanghirang with 70,033 votes.
Dayanghirang was followed by Alberto Dugong with 2, 289 votes.
In the third district, Isidro Ungab was leading with 174,958 votes, against his opponent Abundio Indonilla with 3,866 votes.
For the first district councilors race, Kap Ibuyan is leading with 148, 168 votes, followed by Luna Acosta with 145,338 votes, Jessica Bonguyan with 138,426 votes, Tek Ocampo with 136,561 votes, Bernie Al-Ag with 133,746 votes, Bonz Militar with 131,201 votes, Pilar Braga with 125,248 votes and at the eight place is Nilo Abellera Jr. with 97,845 votes.
For the second district councilors, Che Che Justol is leading with 166, 914 votes, followed by Javi Garcia Campos with 164, 156 votes, Louie John Bonguyan with 156,150 votes, Dante Apostol with 146, 238 votes, Atty Diosdado Mahipus with 144, 294 votes, Jonard Dayap with 143, 258 votes, Marissa Abella with 140,905 votes and Al Ryan Alejandre with 130,908 votes.
For the third district councilors, Alberto Ungab is leading with 155,570 votes, followed by Nonoy Al-Ag with 133,076 votes, Doc Potpot Villafuerte with 120,305 votes, Myrna Dalodo-Ortiz with 117,278 votes, Sweet Advincula with 116,757 votes, Cocoy Zozobrado with 116,075 votes, Conde Baluran with 111,806 votes, and Enzo Villafuerte with 102,062 votes.