DAVAO City remains a "low risk" local government unit (LGU) for coronavirus disease 2019 (COVID-19) despite the campaign period and recently concluded elections.
The classification matrix for COVID-19 from May 10 to 14 showed no critical, high-risk, and moderate risks barangays in the city. All 182 villages were categorized as "minimial risk."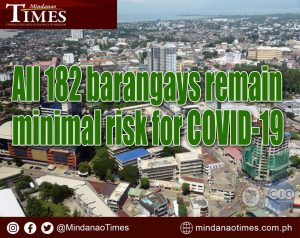 However, the city government has urged the residents to continue following the minimum health standards and get vaccinated and booster shots.
The city government also reiterated that wearing facemasks in public places is still in place except when eating, participating in sports, and similar events where the venues have adequate ventilation.
Under the ordinance, anyone arrested for not wearing a face mask pays a fine of P500 for the first offense, P2,000 for the second offense; and P5,000 or one-month imprisonment for the third offense
As of May 9, 2022, the regional hospital capacity in the region was 23.3% for non-ICU bed use and 29.3% for ICU bed use.
"Only 44 admissions of 333 of COVID-19 admissions are severe and critical. Out of the 44, only 4 (1.2% of the total admissions) are confirmed cases, while 40 are probable and suspects.  
3,113,551 individuals or 70.8% of the target population in the Davao Region are fully vaccinated," The Department of Health XI Facebook Page states. 
Meanwhile, 31 new cases were recorded in the past week, which was 26.2% lower compared to the previous week. The DOH XI also recorded on COVID death.