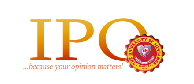 PRIMUM, the official student publication of the University of Mindanao, in collaboration with the Institute of Popular Opinion, conducted a university-wide campus survey to determine the students' preference for key national and local positions.
The survey was conducted from May 2 to 4, 2022 and involved college students coming from different UM campuses. The survey was done online as physical contact was not allowed during the time of conduct of the survey.
Respondents are UM students who are currently enrolled for the second semester SY 2021-2022, at least 18 years old, and registered to vote this May 9, 2022. A total of 6,605 valid student responses were culled out in the survey and were contacted in random using the University Portal. Sampling was set at 95% confidence level and 1% margin of error for a student population of around 43,000. 
The survey revealed that the most preferred presidential candidate is Ferdinand Marcos Jr. (68%), overwhelmingly leading against the next candidate, Maria Leonor Robredo (11%). Panfilo Lacson came third (2%). In addition, there are 16% of the respondents who are still undecided on who to vote. 
Table 1. Preferred President by UM students (all campuses)
| | |
| --- | --- |
| Presidential Candidate | Preference Rating |
| Marcos, Ferdinand Jr.  | 68% |
| Robredo, Maria Leonor | 11% |
| Lacson, Panfilo | 2% |
| Pacquiao, Emmanuel | 0.5% |
| Domagoso, Francisco | 0.4% |
| | |
| UNDECIDED | 16% |
As for vice-presidential preference, Sara Duterte (87%) is the pick of most UM college students, followed by Francis Pangilinan at a far 6%.
Table 2. Preferred Vice-President by UM students (all campuses)
| | |
| --- | --- |
| Vice Presidential Candidate | Preference Rating |
| Duterte, Sara  | 87% |
| Pangilinan, Francis | 6% |
| Sotto, Vicente III | 0.7% |
| Ong, Willie | 0.6% |
| | |
| UNDECIDED | 6% |
The survey also included results for senatoriables who would occupy the 12 available seats in the Senate. Results revealed that Mark Villar topped the senatorial preference survey (36%), followed by Loren Legarda (33%) at second place. Atty. Lorenzo Gadon and actor Robin Padilla statistically tied at third place (29%) while Atty. Harry Roque and Sherwin Gatchalian are statistically tied at fourth place (28%). Juan Miguel Zubiri is at fifth place (27%) followed by Alan Peter Cayetano at 6th place(25%). Anchorman Raffy Tulfo (23%) and Sorsogon Governor Francis Escudero (22%) occupy the 7th and 8th places respectively. Risa Hontiveros and Atty. Chel Diokno are tied at 9th place with 21% each. Former Defense Secretary Gibo Teodoro (20%) landed on tenth spot. Vying for the final two spots are Atty. Salvador Panelo and Jinggoy Estrada tied at 11th place, and former Mayor Herbert Bautista in the 12th spot.
Table 3. Preferred senators by UM students (all campuses)
Senatorial Candidate

Preference Rating

Villar, Mark 

36%

Legarda, Loren

33%

Gadon, Lorenzo

       Padilla, Robin

29%

Roque, Harry 

       Gatchalian, Sherwin

28%

Zubiri, Juan Miguel

27%

Cayetano, Alan Peter 

25%

Tulfo, Raffy 

23%

Escudero, Francis 

22%

Hontiveros, Ana Theresia 

       Diokno, Jose Manuel 

21%

Teodoro, Gilbert

20%

Panelo, Salvador

       Estrada, Jinggoy

17%

Bautista, Herbert 

15%

Marcoleta, Rodante 

       Honasan, Gregorio 

13%

Ejercito, Joseph Victor 

12%

Villanueva, Joel 

11%
The University of Mindanao, being the biggest private university in terms of student population in Mindanao and a multi-campus university with its campuses located in key cities and municipalities in Region XI, also included surveys for local key positions in these areas.
When Davao City-registered voters were asked who to vote as City Mayor, Sebastian "Baste" Duterte was the overwhelming choice (83%). Atty. Ruy Elias Lopez, an independent mayoral candidate, came far second (7%). Around 10% of the Davao City subgroup are still undecided on who to vote as City Mayor of Davao. For representative for the First District of Davao City, Paolo Duterte clinched an overwhelming majority vote (93%) against the independent candidate Mags Maglana (6%). For the Second District, Vincent Garcia has twice the number of votes (65%) against Danny Dayanghirang (33%). For the Third District, Isidro Ungab (96%) undoubtedly is the choice of the UM students. 
When Tagum City-registered voters were asked who to vote as Mayor, the race is neck to neck, as both Eva Lorraine Estabillo and Rey Uy statistically tied at 50% each. For Congressman for the First District where Tagum City belongs, Pantaleon Alvarez topped the list (56%) followed by his close contender, Bong Aala (43%).
When Panabo City-registered voters were asked who to vote as Mayor, new mayoral contender Biboy Gavino is the choice of 56% of the UM students, followed by the incumbent mayor Joe Relampagos, who is preferred by 41%. For Congressman of the Second District where Panabo City belongs, Aldu Dujali topped the list (67%) followed by his close contender, Janris Jay Relampagos (33%). 
For the Island Garden City of Samal, UM Peñaplata students preferred incumbent mayor Al David Uy (87%) who has an overwhelming lead against his contender, Helen Perez (11%). For Congressman, majority of the students picked Aldu Dujali (78%) over Janris Jay Relampagos (22%). 
In the South, UM Digos and UM Bansalan students were also asked for the congressional and mayoralty positions. UM Digos students' top pick for mayor is incumbent mayor Josef Cagas (84%) over former mayor Joseph Peñas (16%), and the former's brother John Tracy Cagas (77%) as congressman over his contender for the position, Erwin Llanos (21%). 
For Bansalan, students are divided, as the mayoralty race is at its tightest. Leading with just a few percentage points is Quilin Sarte (39%) followed closely by Edwin Reyes (38%) and Eugene Clata (24%). For congressman, UM Bansalan students prefer John Tracy Cagas as congressman (61%) over its closest competitor Erwin Llanos (28%). #