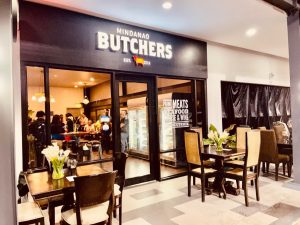 IT HAS been years since I sat down for a good meal paired with excellent wines with the ever busy restaurateurs, Carmina Mapa del Rosario  and Carlo Calma Lorenzana.  On a rainy Friday night last April 29, I made my way to the new branch of the Mindanao Butchers located in a new building called CT Drive along Tulip Drive owned by my loving hijados, Mike and Patty Tan.  Carmina M. del Rosario, well known for her Crazy Cook Catering, and Carlo C. Lorenzana of Sumo Sam-Davao and other well established restos in Manila like La Cabrera, have always been true to their food advocacy rather than just merely concentrating on commerce and profitability in their food business.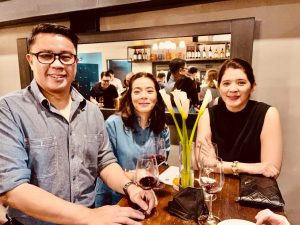 The food business duo's savory mélange of slow food is a heavenly experience of art, culture and history combined.  The well-travelled and once New Yorker Carmina has that love affair with food that she's a walking encyclopedia of matters pertaining to the culinary arts of the Philippines.
    "Mindanao Butchers & Company, which was established in 2016, prides itself in curating the very best in Old and New World wines. 
We have visited wineries around the world and have carefully chosen wines we ourselves enjoy and would be proud to serve at our new wine bodega.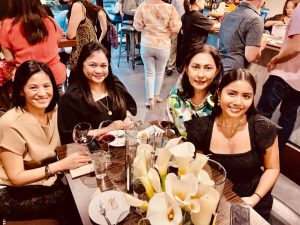 This is actually our second branch here at CT Drive along Tulip Drive, Matina.  It's not only excellent wines but Mindanao Butchers promises superior taste and gourmet quality food products that pass the standards of foreign and local chefs both in Manila and abroad," Carmina said. 
Mindanao Butchers prides itself for providing the local market with quality cuts of imported prime meats and steaks, seafood, cheeses, charcuterie as well as it being the exclusive distributor of Tierra de Espana Spanish food products. 
This food venture is comprised and owned by a group of foodie entrepreneurs from Davao and Manila namely Carlo Calma Lorenzana, Bobby Tenchavez, Raffy Garcia del Rosario, Sandro Gonzalez and Anton Lopez.
    That TGIF night, Mindanao Butchers offered its elite guests with very good tasting wines like Toscana 2017 from Tuscany, Conde Bel Reserva and Valparaiso Roble from Spain.  Lucky for those who are close to Carmina and Carlo as the duo saved the best for them with their bottle of fine Bordon Red Gran Reserva.  "This is a very special wine which is ruby red in color.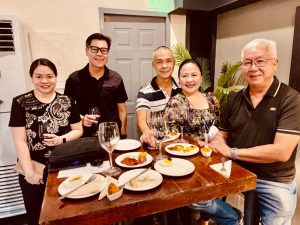 It has a complex aroma with its good intensity, balsamic, spicy, leathers, and tobacco over a delightful candied fruit backdrop.  In the mouth you can taste its elegant flavor with the voluptuous tannins still present in the classical style and lasting through the aftertaste.  This wine is healthier for the heart," described Carlo of the precious wine.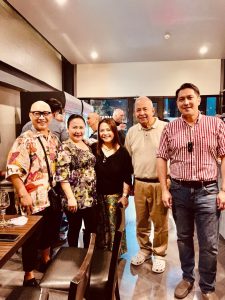 Mindanao Butchers is one establishment for Davao's gourmands and foodies to truly appreciate and enjoy. Guests had their fill of cheeses like Caprese Lotteria Sorrentina, Brie Truffle aturage Comptoir, Aged Gouda Beemster XO, Blue Shropsire Coombe Castle; and Iberico Chorizo Marcial Castro, Bomba croquetas, Bocadito USDA Angus, and Dark Chocolate Truffles Licorice. 
    Thank you, Carmina Mapa del Rosario and Carlo Calma Lorenzana, for inviting me with your personal touch of gentle persuasion which is, truly, hard to turn down.  Salamat po.