THE City Engineer's Office (CEO) reminded Davaoeños to observe proper garbage disposal to prevent clogged drainages, which often cause flooding in the city.
CEO officer-in-charge Atty. Engr Joseph Dominic Felizarta said during the "At Your Service" program of  Davao City Disaster Radio on Tuesday that pumping stations are placed in Ramon Magsaysay Avenue, Ponce, and Agdao.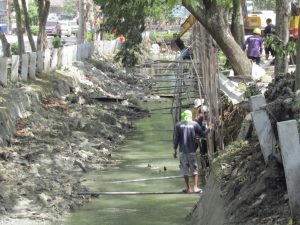 "Usahay mapuno ug basura, di sya mahigop sa pump. Kay ang pump tubig raman ang higupon di man basura. Dapat ang atong mga atong mga kaigsoonan unta mutabang sad sa atong trabaho pud, dili magpataka og labay sa ilang mga basura. Kung makita na hugaw na ilang tungod, mutabang lang unta og hinlo. Dali ra man unta na sya panguhaon kay kung muadto na sa kanal mu-clog gyud na (Drainages are sometimes filled with trash and the pumps cannot siphon off the water. Our fellow Dabawenyos should help us do our job, don't throw your garbage anywhere. If you see garbage within your area, please help clean it. It would be easy to pick it up, otherwise, it will go straight to the canal and clog it)," he said.
He, however, said that some garbage found in drainage canals are driftwoods that trap the drainage and manholes.
The CEO head also said, "Diri gani sa Laverna, among nakuha diha kay refrigerator man gani, mga dagko nga lawas sa lubi o trunk sa coconut.
Kung ingon ana mu-cover sa atong drainage, mu-cause gyud sya og clogging (At Laverna Hills Subdivision, we even removed a refrigerator, huge coconut trunks. If those cover our drainage, it would cause clogging)."
He said the drainage project of the Department of Public Works and Highways (DPWH) at Laverna is still ongoing and may be completed before the year ends.
Felizarta also said that people sometimes can't be blamed if the garbage they dispose of at collection points is not collected immediately and gets washed toward the canal whenever it suddenly rains.
During disasters or calamities, Felizarta said the CEO, as a member of the Disaster Risk Management Council, provides necessary equipment like dump trucks to areas needing immediate disaster response in cooperation with other agencies like the DPWH, City Disaster Risk and Reduction Management Office (CDRRMO), and Public Safety and Security Command Center.
The CEO also conducts drainage and bridge repairs, as well as road and building construction works.
Meanwhile, the Ancillary Services Unit personnel spearhead the cleaning after a disaster.
Felizarta assured that his office has the necessary equipment to respond to disasters after the CDRRMO funded its augmentation.
"Sa pagkakaron kumpleto kita sa equipment na ginagamit kung duna'y mga landslides. Naa ma'y mga maguba na mga bridge o hanging bridge, naa kita'y mga personahe ug mga equipment na andam nga muadto dayon sa area para ayuson ang mga na-damage. Naa kami'y gina-propose nga flood wall, gina-forward na sa DPWH. Unta ma-fundingan atong mga creeks and floodwall (Our equipment is complete, including those needed for landslides. If a bridge or hanging bridge is destroyed, we have the personnel and equipment ready to be dispatched to the affected area to address the damages. We are also proposing a flood wall and it was forwarded to the DPWH. We hope our creeks and floodwall will be funded)," he said.