By Kyla Ryanne Lumibao – THE regional office of the Department of Health reported last week that there were four deaths due to leptospirosis in the region during the first three months of the year.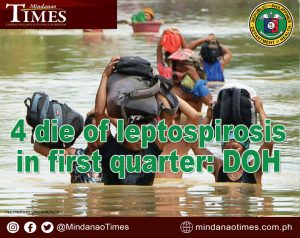 In her presentation during an online press conference, DOH Assistant Regional Director Gerna Manatad said that of the number of deaths, two were from Davao del Norte, while one each from Davao City and Davao Occidental.
The number was way higher compared with what was recorded during the same period last year when there was only a death.
However, Manatad said the number of cases was lower during the first quarter of this year at 25, while there were 35 cases during the same period last year.
Manatad cautioned the public about susceptibility to the disease considering that floods have been taking place.  "Because of the circumstances in the way of transmitting the disease, especially during flooding and typhoon, that would really make our people vulnerable and contaminated with leptospirosis," she said.
The disease, the agency explained, is caused Leptospira bacteria which can enter the body through wounds when in contact with floodwaters, vegetation, and moist soil contaminated with the urine of infected animals, especially rats.
Among the common symptoms are fever, headache, muscle pain, yellowish body discoloration, dark-colored urine and light stools, and low urine output. However, when it comes to severe cases, one may experience kidney failure, liver involvement, or brain involvement.
This can be prevented if people avoid swimming or do not wade through contaminated water, especially flood water; use proper protection like boots and gloves; draining potentially contaminated water, and rat pest control.