MAYOR Michelle Marie Denise Rabat of Mati City in Davao Oriental confirmed Saturday that the barangay official who was shot dead Wednesday was among her supporters.
In an online conversation, Rabat, who is seeking reelection, said Ronnie Valera, barangay captain of Matiao, was among those who have expressed support for her candidacy.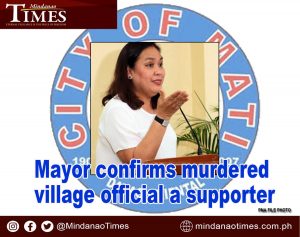 This developed as police investigators have yet to determine the motive of the killing of Valera who was shot dead while resting at the back of his house in Purok Matahimik-1.
Rabat also said in an interview with a television station, said the victim was a relative of Danilo Lumikid Jr., a political vlogger in Manay town, also in Davao Oriental, who was killed on April 1 just about a kilometer from the Manay center.
Rabat said Valera even went to the wake of Lumikid to pay his respects. 
Manay is about 70 kilometers from Mati City.
On the killing of Valera, Rabat said investigators were looking into three possible angles for the murder, including a conflict he had with someone among the villagers.
Although she confirmed that the investigators have yet to single out the motive, Rabat said "politics could be (a motive)."
If proven that politics was the motive of the killing, it would be "the first time" for the city, the capital of Davao Oriental, to experience a politically-motivated killing during an election. "This (killing of a barangay official) never happened in Mati. Mati was never a hotspot. If ever, this is the first during an election period, something like this would happen," Rabat said.
Mati City, the capital of the province is not among those identified as hotspot in the upcoming elections.
"I am not saying it is (politics as a motive), but it could be, you cannot remove that (politics as among the possible motives)," she said.
Rabat said she met with the victim and other barangay chairs just hours before he was murdered. "That is why it (the killing) came as a shock because you don't see on his face that he is troubled," added  the Mati City mayor, adding that the victim also told some people about the conflict, particularly his relatives.
Members of the family, she added, have sought her help so they could get justice for the killing of their patriarch.