By LENI LAMOSTE UM Intern – THE TASK Force Davao is asking the public to cooperate as security is tightened for the Holy Week, particularly on Maundy Thursday until Easter Sunday.
According to Colonel Darren E. Comia, commander of Task Force Davao, they requested more personnel from the 10th Infantry Division, as well as the Davao City Police Office, as force multipliers.
They will secure the safety of 29 Catholic churches in the city.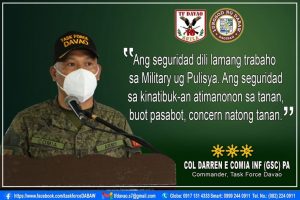 "It is important to implement strict security measures because we anticipate the heavy movement of people due to the lack of restrictions since the COVID outbreak," he added.
He said they will implement mobile checkpoints, on top of the established checkpoints at entry points of the city. He also urged the public to report suspicious persons to the authorities. "If they see something, they should speak up," he said.
Comia also reminded the public to avoid carrying backpacks or wearing a jacket or cap. "But hey could bring a transparent water container and a transparent bag for those who have children with them," he added.