By Emmanuel Virgil ALbelda – UM Intern – AN OFFICIAL of the Davao City Overland Transport Terminal (DCOTT) assured that there would be enough buses for last-minute travelers.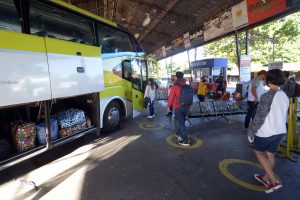 Aisa Usop, DCOTT manager, revealed that she already coordinated with the president of the Association of Bus Operators in Davao and according to her, they have enough buses in case of an unanticipated increase of travelers for the Holy Week.
Usop added that buses will still operate during Maundy Thursday but on Good Friday, small bus operators have already confirmed that they will not be making trips. However, major bus companies will still continue their operation depending on the volume of passengers. Regular operation for buses will resume on Saturday.
"If you can come early and avoid the peak hours, you should do it to avoid delays in your travel", Usop said.
She reminded bus passengers that even though Davao City is on alert level 1, they should still follow the guidelines of the terminal as well as the minimum health protocols.